Bill Clinton speaks on campus
Former President Bill Clinton campaigns for Hillary Clinton on Pitt-Johnstown's campus.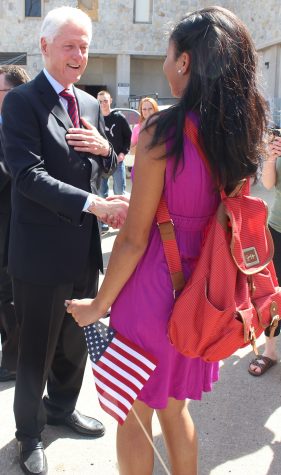 Over 700 people crammed into Heritage Hall April 20 to see former U.S. President Bill Clinton. The purpose of Clinton's visit was to rally support for his wife, former Sec. of State Hillary Clinton, before the April 26 democratic primaries.
Bill Clinton spoke from a navy-colored stage in front of a large American flag. Audience members stood packed before the stage and leaked into the press section.
The room grew so warm that several people left, and many were seen fanning themselves. Sen. John Wozniak, Johnstown mayor Frank Janakovic and two democratic volunteers spoke prior to Bill Clinton.
Audience members jeered when people other than the former president were introduced, and they yelled opposing candidates' names.
The event was sponsored by the campaign organization Hillary for America and the College Democrats club, although club president Qaseem Chaudhry said members did little to organize the event.
Bill Clinton discussed Hillary Clinton's experience, values and policy plans. First, he summarized Hillary Clinton's economic plans.
Inequality is one of society's main problems, Bill Clinton said. To battle inequality, the Clintons advocate for a changed tax code.
Corporations should be encouraged through tax code to pay their employees more instead of concentrating profits in shareholders' and executives' hands.
He said he saw significantly more economic improvement with economic policy focused on supporting the lower and middle classes, as opposed to trickle-down policy focusing on the higher class.
In order to better support the lower and middle classes, Hillary Clinton proposes more college aid, Bill Clinton said.
She wants to increase Pell and work-study grants for low-income students, Bill Clinton said, as well as award universities with reasonable tuition.
Students should be able to refinance their student loans, package them similarly to a mortgage and limit repayment to 10 percent of after-tax income, Bill Clinton said.
Taxes on the wealthy need to be raised, he said, but for a good reason—to invest in the future, such as students' futures.
Another improvement Bill Clinton suggested is to reform the healthcare system. The Affordable Care Act has co-pays and deductibles that are too high, he said, and they are bankrupting too many people.
Hillary Clinton would like to have an enrollment fee in the healthcare system to increase quality and decrease costs.
Both Bill and Hillary Clinton worked with former 12th congressional district Rep. John Murtha, he said. They admired his progressive economic policy with his devotion to the military.
Hillary Clinton understands the economy, Bill Clinton said. She also negotiated a nuclear treaty with Russian president Vladimir Putin.
Her popularity results from posing solutions with logic that makes sense, Bill Clinton said.
"From when I met her 45 years ago to now, she is the best change-maker I know," Bill Clinton said.
One change that senior Zach Juliano and junior Courtney Starrett said they would like is more job creation.
They came to hear Hillary Clinton's plan for Pennsylvania and to see the former president. Neither said they had plans for primaries.
Both students said they would have liked to see the event better advertised, since they heard through Twitter. They suggested that a mass email could have been sent to university students.
Deborah Wilson of Lower Yoder said she came to see former President Clinton, whom she admires.
She wanted to hear about Hillary Clinton's plans regarding the South Asian trade agreement.
Senior Bree Rivera said she is a Bernie Sanders supporter fan, but wanted to hear the other side.
"The speech was good," she said.
After the speeches, Bill Clinton greeted some students. Sophomore Shane McGuire said he felt privileged to meet him.
"I just shook the hand of Bill Clinton and took a selfie with him," McGuire said.