New wireless printers are under-utilized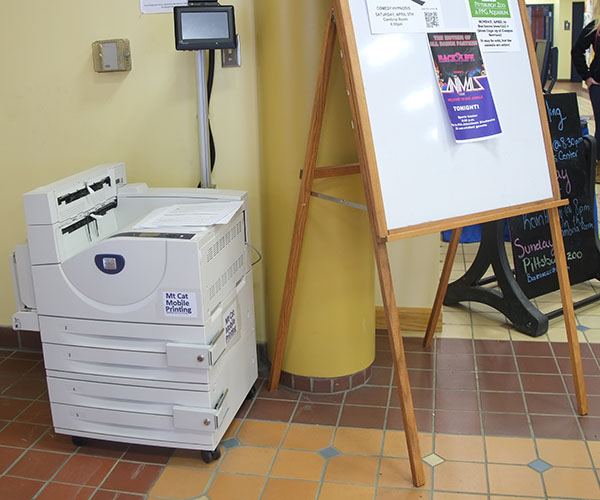 Wireless printers are now available for student use, but students' lack of awareness of the printers is a problem.
The printers are located in the Living/Learning Center's recreation center, next to the Student Union's information desk and in Blackington 228.
After initial set-up, documents can be sent to the printer by emailing [email protected] or by signing into mtcatmobileprint.upj.pitt.edu/myprintcenter.
The website allows documents to be uploaded, a destination to be selected and printing options to be set, such as whether to print double-sided and how many copies. Documents printed from the website print immediately with no additional work required.
Emailed documents are simply attached to an email and stored in the printers' queue. Next, students swipe their student identification card at a scanner attached to the printer and type their MyPitt log-in into a small touch screen. Once signed in, students can select from queued documents.
Both methods worked when attempted by a reporter, but other students have found problems.
Student Bethany Bowers said on Facebook that when she tried to print, it charged her 21 cents and did not have a document available for printing.
Working out technical problems is why the union location was set up before the Living/Learning Center location, Student Government Association President Kyle Maguire said at a meeting April 5.
Information desk employee Victoria Mercado said she finds the printing convenient since she doesn't have to run from the union to Blackington Hall.
She said she has seen only two people, including herself, use the union printer. She has been passing the instructions out to her friends, she said.
"People don't know it's there."
Senators agreed that it needs more advertising. Sen. Hannah Miller requested a mass email be sent to students, and Sen. Brady Willis asked for a larger sign next to them.
Junior Sean McCarney said he discovered the printers when he received a picture mocking the Living/Learning Center printer's placement.
"We both thought it was funny," he said. "(The printer) looks pretty sad and alone."
McCarney said he liked that printers were put in high-traffic areas, but he would have liked more purposeful placement. For example, he said replacing a booth in the hallway along Brioche Doree with a printer would seem more thoughtful than on the hallway floor.
"(It's) a good idea. I just think placement is everything," he said.
As of now, McCarney said he does not plan to use the printers because he prefers personal printers' convenience.
Printer instructions are available at the information desk.