Candidates talk policy – Miller
Presidential hopefuls compete for votes for the April 6 and 7 Student Government Association election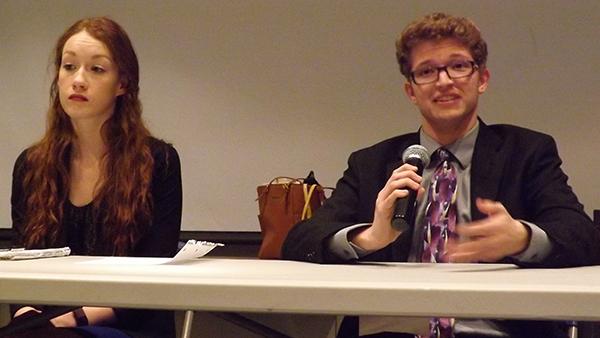 Student Sen. Samuel Miller is the youngest candidate running for student government president this year. The political science major said that, even though he is a freshman, he can already see many issues on campus.
"The (number) of people who care about the campus has been going down in recent years," he said.
"People have just stopped caring about things, and they stopped voting for student government officials because they don't believe they can make a change."
Junior Casey Ansbro has served in the student government for three years and has been secretary for two years, as she runs to become the next vice president.
As the only female candidate in all three tickets, Ansbro doesn't see her gender as a disadvantage.
"It would be a great thing to have a female perspective (when leading the student government)," she said. "Not that two men can't do the job, but having the mixture of both male and female is a really good idea."
Ansbro also said that campus safety needs to be improved, as she feels there should be at least a few security cameras around campus to make the community safe. She also encourages the installation of safety lights around campus and a better education of students students regarding campus safety.
Miller said he wants to give the university a fresh start by changing the budgeting process.
"There should be some reforms when it comes to budgeting, but there is still more that needs to be done," he said.
"Budgeting and allocating should be so simple that emergency allocations won't be needed as much."
Miller also said he wants to reform the senators to make students feel better represented to student government officials.
"A permanent solution is to make a district system to make senators represent a different part of campus, which they also have to live in," he said.
Students are to be able to vote for Miller April 6 and 7 on campusservices.upj.pitt.edu.