Candidates talk policy – Maguire
Presidential hopefuls compete for votes for the April 6 and 7 Student Government Association election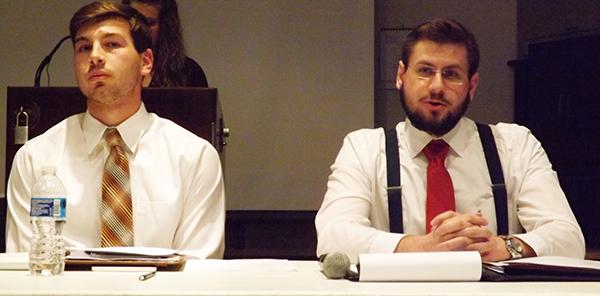 Junior Kyle Maguire is a political science major with history and communications minors. He is currently serving in student government for his third year. He became vice president last spring when he and former President Shelby Smith were elected.
Because Smith graduated last fall semester, Maguire became the de facto president for the current semester. When Maguire was named president, junior Nick DiGiorgio was chosen as vice president.
DiGiorgio is a finance major with a minor in economics and has also served three years for the student government. He presently works as a realtor for Re/max Team Realtors along Bedford Street.
Both Maguire and DiGiorgio have held multiple student government offices and have a combined six years of student government experience.
Maguire also highlighted his communication with university officials, such as Student Affairs Vice President Shawn Brooks, and his time management skills. He is not only a student government officer, but a student-athlete, competing on the men's golf team.
DiGiorgio said that,  while he and Maguire have only been in office for a short time, they have seen a significant increase in student involvement.
"We have outlined our goals with the senators to become more engaged with students, and we have seen an exponential spike in interest," DiGiorgio said.
He also said that he wants the senators to become more visible and give students a more personal experience by going to residential buildings units with Maguire throughout the next semester and offering sit-down conversations with students along with complimentary coffee sponsored by Sodexo.
When it comes to the emergency allocation money the association distributes to clubs that are in desperate need of financial help, Maguire believes it is there for a reason.
"We aren't just going to let a club die off when (the association) has the money to give to them, but (senators) don't want to spend it," he said.
Maguire's biggest goal as president is to lead by example.
"I want to perpetuate leadership and inspire people to become leaders themselves," he said. "I want to allow people to come out of their shells."
Students are to be able to vote for Maguire April 6 and 7 on campusservices.upj.pitt.edu.