Senators redo organizations' budget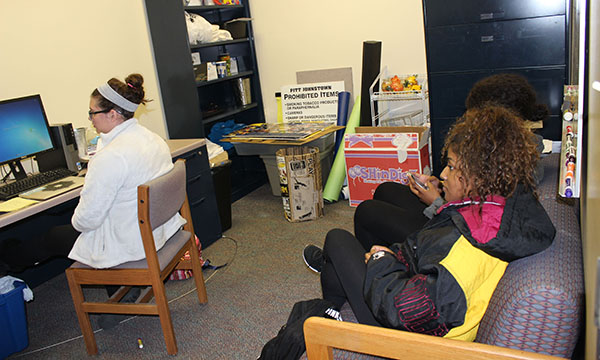 Student Government Association members voted for striking a tabled 2016-2017 school year's budget for Pitt-Johnstown's clubs and organizations at the association's weekly meeting March 22.
The motion passed with all members voting for it, except for one abstinence.
The association's allocation committee members made a new budget March 24, according to the committee's co-chairwoman Madison Nick.
Nick said the proposal to strike the budget was an idea from a meeting among committee members and Student Affairs Vice President Shawn Brooks on March 21.
A main difference between the newly drawn budget and the rejected budget was that the 11 clubs that had been given no money because of their late submission of budget proposal were given money.
According to Nick, new budgeting for these late budget proposals had gone through a new process in four steps.
Committee members first reviewed these budgets to allocate the amount of money that was justifiable.
Then, 35 percent of the total amount was cut as a late penalty.
Another 10-percent cut was applied to the running total following the last cut, which was applied to all clubs that submitted budgets,. Those exempt had only one line item less than $1,000, and The Advocate because of a contract it had with the association, Nick said.
Lastly, the amount cut was subtracted from a club's last priority line item and up.
Nick also said clubs that proposed for more than $20,000 received an additional 10-percent cut after the first 10-percent cut.
"This was because after the first 10-percent cut was made, we were still negative funds," according to a budgeting summary sheet from the committee.
Habitat for Humanity President James Geyer, who attended the association's meeting March 22, said he was surprised to find out that the budgeting process had changed—in a good way for his club.
"This year we asked for $27,779 and received $17,445 … however, this will change with all the new changes to the budgeting process," Geyer said.
"Money will be cut from all organizations across the board which I believe is a lot fairer to every organization, not just Habitat."
Nick said, though redoing the budgets for clubs was not easier for committee members, it was fairer for clubs.
There were only four clubs that received no money in the new budget because they had no proofs for their line items, Nick said.
Nick also said committee members decided to keep the emergency allocation amount the highest because the amount for the 2015-2016 school year was mostly depleted.
"Because we cut at least 10 percent from all clubs (except clubs with one line item under $1,000), we believe it is in our best interest to keep the EA (emergency allocation amount) higher for emergency allocating purpose for the 16-17 school year," according to a budgeting summary sheet.
Nick said the new budget would be proposed on the association's weekly March 29 meeting, and would be tabled for a week for possible amendments to budgeting.
The association's parliamentarian, Jeffrey Wainwright, said he would like to propose constitutional changes to keep a consistency in the budgeting process.
Wainwright also said that it was a good call to rework the budget.
"There was no money (allocated) to late budgets, so I was kind of unsure what cuts they (allocation committee members) made and why," he said.
Geyer said Habitat for Humanity received $5,000 less than what they requested in their budget.
"Last year, the week after budgets came out, organizations were allowed to submit budget modifications taking money from other organizations, to increase their own budget," Geyer said.
"Because of this, last year, the Programming Board tried to take $10,000 from our Habitat budget to increase spending on the spring concert. "
The two clubs ended up splitting the $10,000, according to Geyer.
"Once that $5,000 was cut, our budget for this year became $18,632," he said.
"I like the new system and hope that SGA (Student Government Association members) adopts this system for years to come."