Food app to be usable this fall
Sodexo employees are to release a mobile app containing cafeteria information this fall.
Student Government Association Food Committee members have come up with an idea for a mobile Sodexo app, according to Sen. Michael Shields.
The idea was then brought forth in a meeting with Sodexo General Manager Kevin Dicey, during which food committee members discovered an existing Sodexo app already called Bite. Campus officials are looking into how it can be available to everyone on campus.
"The app will contain the menu for the day for both the Varsity (Cafe) and the Student Union (cafeteria)," Shields said.
Students are to be able to see recipe details and nutritional information and what is being served, Shields said.
People who have Fitbits, wristband trackers of personal health information,  are to be able to connect their Fitbit to the app to count the number of calories they are ingesting when eating at one of the on-campus cafeterias.
Shields said he believes that there is also going to be a section of the app where people can rate whether they enjoyed their meal.
"Students will now have the ability of seeing the menu of the day right from their phone. I think this will help students figure out which (cafeteria) they want to go to," Shields said.
The app is to be a free download from the app store, according to Shields.
Because of some technical difficulties with the app and Sodexo employees being in the process of learning how to correctly use it, the release date has not yet been determined.
Once the app is fully functional, an email is to be sent out to everyone with a connection code.
Dicey said the app has been released to student government food committee members as a trial run.
According to Dicey, the app is currently downloadable in the app store, but he is waiting to release the access code until this fall.
Dicey also said he is to have coupons on the app and the option to connect with social media.
Sophomore Clarissa Nepereny said she doesn't eat at the Varsity Cafe, but she does eat at the Student Union cafeteria about three times a week.
"I think I would use (the app) because then I could see if I want to eat there, and I have food allergies, so sometimes I can't even eat there," Nepereny said.
Nepereny said she thinks the comments on the app will be helpful because students don't use the suggestion boxes often. But students are on their phones constantly, she said, so they might be more inclined to leave a comment through the app.    
About the Writer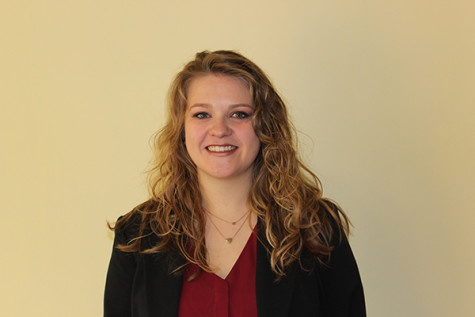 Kaitlin R. Greenockle, Editor-In-Chief

Graduated High School: 2011 Council Rock High School North (Newtown, Pa.)
Year and anticipated graduation date: Senior,  Spring 2016
Major/Minor:...