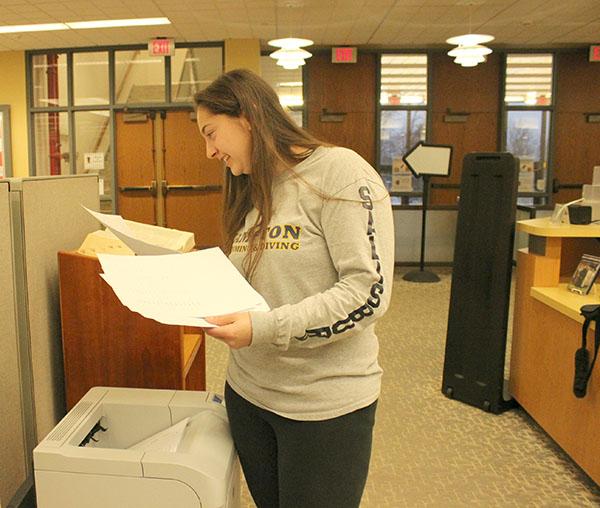 Temperance Moore
Two wireless printers are expected to be installed on campus by the end of March, according to Pitt-Johnstown Student Government Association President Kyle Maguire.
Student Affairs Vice President Shawn Brooks said there is to be a printer placed in the recreational room on the third floor in the Living/Learning Center and one placed in between the Tuck Shop and the information desk in the Student Union.
Maguire said the idea for the printers came from student government members, President Jem Spectar and Finance and Administration Vice President Amy Buxbaum.
"They wanted to give a more modern touch to printing on campus, Maguire said.
"They also wanted printing to be more accessible for students."
Spectar and Buxbaum were the ones to decide how many printers would be purchased and where they would be installed, according to Maguire.
"The technology is currently being used on the Oakland campus, and we're very excited to roll out this convenience to our students," Buxbaum said.
Maguire said they also worked with a company to have all components required for the wireless printers.
These components are about two to four weeks from delivery, and they then have to troubleshoot. An exact date for installation has not been given yet because of these steps, according to Maguire.
Maguire said students are to be able to print from remote locations instead of having to save their document, and then having to go to a specific computer elsewhere on campus to print.
Buxbaum said that in addition to printing from a remote location, students are to have the option of having the printer hold their request until they are at the printer itself, and that then they can enter their username and password to have the document print.
Living/Learning Center resident Junior Devin Parfitt said since the center is isolated from everything else on campus, it will be nice to have a printer in the building.
Fellow Living/Learning Center resident Ben Berkebile said he doesn't always want to walk up the hill to print at Blackington Hall or Owen Library, so a printer in the Living/Learning Center will be convenient.
Junior information desk employee Kaylee Rush said it could be dangerous having a printer in between the Tuck Shop and the information desk.
"People run around drunk here (in the Student Union); they don't really do that at Blackington (Hall) or the library," Rush said.