More than $12k emergency allocated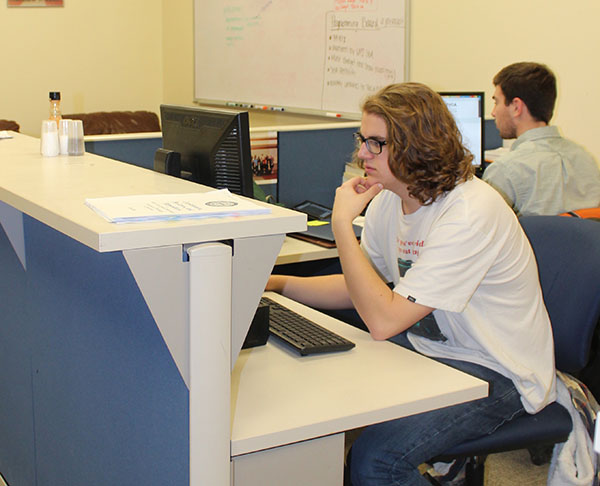 More than $12,000 was emergency allocated to three Pitt-Johnstown clubs by the university's Student Government Association members Jan. 26.
Association members deliberated during their weekly meeting to decide whether the university's American Society of Civil Engineers, the Lacrosse Club and the newly formed Amateur Robotics and Electronics Coalition would receive impromptu funding from the organization's emergency allocation fund.
Student government allocations co-chairwoman Madison Nick said that, while the money received by the clubs is set aside for situations such as this, association members don't normally distribute large amounts of money to multiple clubs at one time.
"Typically, (student senators) allocate around $1,000 during a meeting, sometimes less, but it really depends on (a club's situation)," Nick said.
Student government members eventually agreed to distribute the exact amounts that all three club members applied for, she said.
The amateur robotics and electronics club received $2,438.58 for equipment and components to begin club events and projects, according to Nick.
The equipment the club needed the money for has a five-year value and will also help the club, which was formed last semester, become more active, according to both Nick and the club president, junior Evan Gretok.
"We asked for the money in an effort to buy (robotic) kits and development boards, along with vehicular robotics platform and a walking robotics platform to just to get all of (the club's) projects started for what (the members) want this club to be," Gretok said.
"It's really good because this is the kind of investment that will be used for hundreds of different projects over the next several years."
The club currently has 27 members, and two to three fundraisers are in the works, according to Nick.
The men's lacrosse club was allocated $2,675 to pay league dues for the current and last season, as well as referee fees.
Nick said the conflict among student senators was whether it was unconstitutional for the student government to allocate money to club members for past fees.
Club president Webster Burrier said last season's league dues had to be paid in order for club members to participate in an organized league.
"Last year, (the club's budget) was unable to go through correctly, due to some issues with previous student government officers," he said.
"Because of this, we started the year with no money in our account."
Burrier said club members owed $850 in league dues from last season, $925 for league dues this season and $130 for each game during their eight-game season to pay officials.
Club members were able to raise $140 in fundraising efforts, and because of that asked for $2,675, according to Burrier.
The civil engineers received the largest amount from student government officials, allocating $7,316.48 to the club for steel bridge and concrete canoe competitions, according to Nick.
Nick said out of the three bids, the civil engineers' allocation request was the most difficult one for student senators to deal with.
The club emergency-allocated for travel expenses such as gas money, but, due to a new rule made by university officials, members of the university can't be reimbursed for gas costs if they do not use a university vehicle, according to Nick.
"Club members had already budgeted for steel bridge and concrete canoe events and planned on taking their own cars," she said.
"When they found out they couldn't do that, they had to request for money to pay for university vehicles, as well as gas so they could be reimbursed."
Nick said another reason why the amount was so large is that out of the club's 120 members, 60 of them planned to attend the events.
The Mid-Atlantic Steel Bridge Competition is to take place April 22-24 at Drexel University in Philadelphia, while the National Concrete Canoe Competition is to take place June 9-11 in Tyler, Texas.