Students ride rails in inaugural event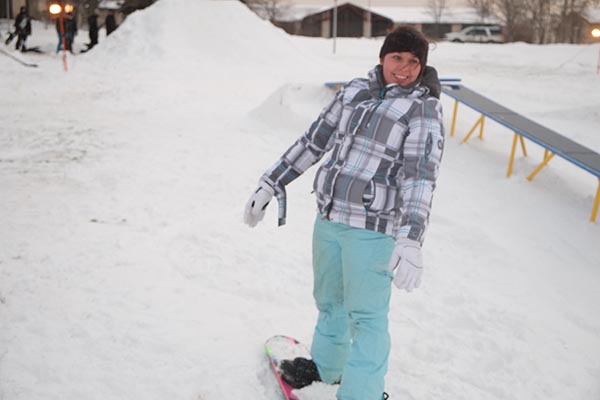 When walking past Owen Library last week, one may have noticed a large mound of snow sitting in the middle of the campus mall.
The mound was just the beginning of a course created by Pitt-Johnstown students as the university's Ski and Board Club members held the campus first Rail Jam competition.
Ski club President Russell Varmecky said the event could not have happened without the vision of the club's fundraising head, Ben Moran.
Moran admitted that holding a Rail Jam competition at Pitt-Johnstown was his baby, so to speak. He said club members needed to come up with ideas to raise money for trips, and he had brought up the idea of hosting a Rail Jam event.
Rail Jams are jib contests that showcase skiers and snowboarders performing tricks on rails, boxes and pipes. Jibbing is technical riding on non-standard surfaces, usually performing tricks, referring to the action of jumping, sliding or riding on top of objects other than snow, according to the United States of America Snowboard and Freeski Association.
Moran said he had attended Rail Jam events in the past, including at the Pitt-Oakland campus and enjoyed it.
"Ideally, we were going to raise money for ski club, but really it is just to have fun and getting to ski or snowboard on campus," he said.
Varmecky said while the event originally was to support the ski club, it has become much more than that.
"It has become more for the campus," he said. "We are trying to bring more positive attention for the campus community."
The club advisor and Academic Affairs Vice President, Paul Newman, was a supporter of the idea and assisted in acquiring proper legal permission from university officials, Moran said.
Varmecky said that past ski club members tried to hold events like this before, but they were shut down due to legal concerns as well as lack of determination.
"Years ago students tried to have Rail Jams, but (there) was not enough people willing to put in the effort to actually have it come together," he said.
The event held two competitions, skiing and snowboarding, one event for each sport with prizes awarded to the top three male and top female participants in each competition, according to the club's Rail Jam Facebook page.
First place for men's skiing included a pair of skis, while first place for men's snowboarding included a snowboard, along with other items.
Jackets, hoodies and hats, along with beanies, stickers and other prize packages were given to the event's contestants.
Eligible participants were not limited to Pitt-Johnstown students, Moran said, it was open to anyone, even faculty or staff, to compete in, but he did not hear of any who planned to compete.
Moran said administrators were all for the idea of holding an event like this on campus.
"They wanted something for the students to do in the winter because there is nothing else really going on (this time of year)," he said.
He also said that he enjoys seeing the event come together.
"It surprises me how nicely (the course) looks after months of planning, Moran said. "Jake Hofer (Ski club member) is an artist when it comes to shaping the track."
All the features were built by club members. Features included three rails and a set of wooden stairs that stood about 10 feet, which led participants to the slope's top at the track's beginning.
Hofer, who was in charge of maintaining the track throughout the event and judge, said that 98 percent of the course was made with shovels, but that members received help from university maintenance employees.
"Building the equipment was a major challenge due to the time that was necessary to put into making it," he said.
Hofer said roughly 100 total hours were put into building the course throughout the week.