Arcade's being updated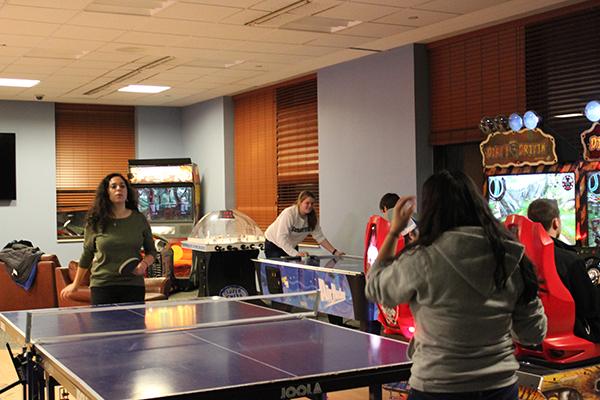 There are plans for a video game wall to be installed in the Student Union's The Zone in the near future.
Academic Affairs Vice President Sean Brooks has been working toward creating an outlet for gamers for two years. As he considers himself a part of gamer culture, he wants to see more students playing in The Zone, he said.
He pushed for the purchase of a new 80-inch television monitor already mounted on the wall next to a pair of armchairs in preparation for tournaments and challenges. The next step is to connect the screen to the Internet via broadband, which he said is to happen by the end of the month.
After the big TV is in use, Brooks said he plans to mount three or four smaller monitors on the wall as well.
"These would be for playing with friends across campus or across the globe," Brooks said.
Students would bring their own consoles to The Zone. He hopes to amass a community of gamers.
Brooks plans to draw kids out of the comfort of their dorms by offering copious and
guaranteed free food.
"I'm hoping for some kind of easy connection with the Mt. Cat Club," he said.
Brooks said he plans on working with the role-playing games club to create wings and games night combos open to the public fairly regularly.
The club is known for their game nights at 7p.m. on Saturdays in Briar 3.
These events usually consist of Super Smash Bros. brawls and Magic: The Gathering matches, as well as instances of any other game brought or thought of, such as Cards against Humanity. They are also a platform for Dungeons & Dragons campaigns, according to the club's President Jonathan Nguyen.
"We usually get
Please see 'Game' on pg. 3
'Game'
continued from pg. 2
around 20 people," Nguyen said.
Game nights are open to the public.
Both Nguyen and the Vice President Kevin McCormick appeared enthusiastic about using The Zone for some of the club's meetings.
"Multiple monitors is pretty convincing," Nguyen said.
"We've been considering having game nights (in The Zone) for a while now, actually."
Even though the club may use The Zone for meetings in the future, Briar 3 is to still hold their original game nights.
"It wouldn't replace game nights," McCormick said. "More probably we'd hold some Friday events there."
Brooks also expressed interest in pinball competitions in The Zone, offering prizes for those who beat him. The club members appeared interested in the idea.
"We definitely have a lot of competitive members who would take him," Nguyen said.