Discontent persists with parking prices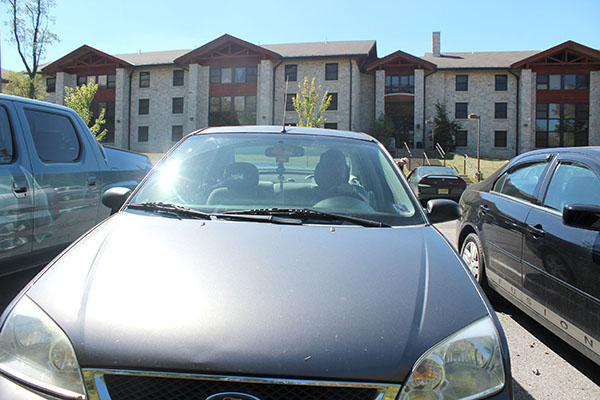 Pitt-Johnstown parking is an issue for some in the Pitt-Johnstown community and for all who pay more for an annual parking pass– $5 more per student.
Commuter student Beth Sabo says she is sick of the prices going up year after year and campus roadways continuing to get worse.
"If I'm paying so much to park here, they should at least give us more places to park and keep the roads nice," Sabo said.
Parking pass revenue is supposed to pay for lot and roadway maintenance.
The current parking permit price for full-time student is $95. The price for part-time students is $47.50.
In comparison to other Pennsylvania universities, Pitt-Johnstown's parking permit price is rather low.
At Penn State-Altoona, the parking pass price for a full-time student per year is $150, according to the university's website. The university also offers metered parking for short-term stays.
Upon entering Pitt-Johnstown's campus, one may notice the main entrance is repaved and potholes are filled.
However, the townhouse parking entranceways are only patched up and provide a bumpy ride.
Townhouse resident Jaclyn Reed has an issue with the raised prices and road conditions.
"I think the price raise is ridiculous, especially considering the limited parking (at the townhouses) and the patchy roads," Reed said.
Reed said that, if the permits' prices are going to be raised, they should at least repave the roads that need attention.
"The holes by the gym are killing our tires. It's so bad for the cars, and if they're going to raise it, they need to redo the roads," Reed said.
Some students may find that, if they cannot find a parking spot, they might need to park in an undesignated area, which can lead to parking tickets.
"Parking tickets are too expensive. It's ridiculous, and they need to stop. The only reason I even get a pass is because it'd be more expensive to pay for tickets," Reed said.
Moreover, the lack of parking availability on campus poses a problem for people who are still unable to find a spot, even though they paid their $95 permit fee.
Sabo said that she has to park at Blackington Hall every day, even though all of her classes are in Biddle Hall. She says her parking arrangement is because the parking lot is full and student parking is hard to come by during the daytime when classes are in session.
"As a commuter, I feel that we should be given more places to park, potentially even additional lots," Sabo said.