These bells tolled for Flight 93 heroes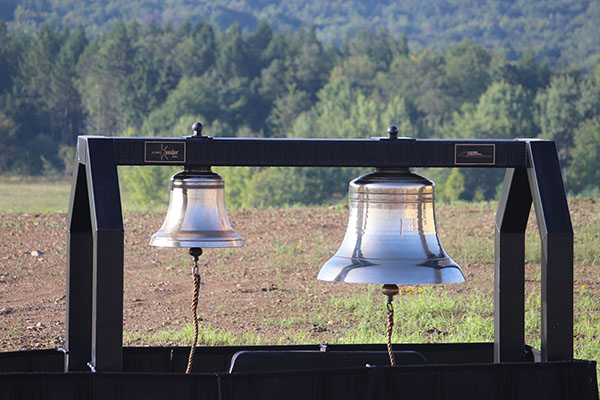 A memorial service was held Friday in Stoystown to mark the 14th anniversary of the Sept. 11, 2001 attacks.
Those attacks with airliners resulted in the crash of United Flight 93 at what is now a national memorial.   
The memorial service began with the United States Army Brass Quintet playing patriotic songs as family members of those who died entered.
Their relatives died bringing the plane down, apparently averting a fourth use of an airliner's suicide crash into an American edifice, perhaps the U.S. Capital Building or the White House in Washington, D.C.
Over 1,000 people attended the service.  There were the family members, along with some donors and community members.
Flight 93 Families President Gordon Felt was part founder of the memorial and said he expected a few hundred family members to attend.
Felt's brother was on Flight 93, going from Newark, N.J., to San Francisco, Calif., for business, according to Felt.
"Breaking of the sacred ground was probably the most meaningful part for me when it came to the creation of the memorial," said Felt.
There are two bells on the site, The Bells of Remembrance, one slightly smaller than the other. They were each rung for each of the 40 non terrorists who died on Flight 93.    
National Park Service Director Jonathan Jarvis explained how the International Design Competition was held to see how the memorial would be designed.
"We do this for them, for families, for those who remember exactly where they were on Sept. 11, 2001… We do this for the nation," said Jarvis.
Pennsylvania Gov. Tom Wolf talked about the events on Sept. 11, 2001, have changed our country.
  "We have learned that we are capable of doing selfless and remarkable things," said Wolf.
Homeland Security Secretary Jay Johnson said that it was because of this terrorist attack, Homeland Security was created.
As the Twin Towers were falling nobody knew what was happening on Flight 93, according to Johnson.
"They did the most American thing, they took a vote. A vote to fight back," said Johnson.
He said many Americans were inspired to join the military after the terrorist attack.
"We are dreamers, fighters and champions," said Johnson.
NBC News Correspondent Jim Miklaszewski said he was honored and humbled there at the memorial service with the family on the heroes of Flight 93.
Miklaszewski was at the Pentagon Sept. 11, 2001. He said it seemed like it was going to be an easy day. He was on the phone with a college thinking up news stories and then, 30 minutes later, the first plane hit one of the Twin Towers.
"I tried calling contacts at the CIA and DA's office, and when no one answered I was worried," said Miklaszewski.
When the Pentagon was hit, inside was organized chaos and was amazingly quiet, according to Miklazewski.
The CIA was able to tap into a phone call between al-Qaida and Osama bin Laden hearing, "Hello, have you heard the good news?" according to Miklaszewski.
"As we were writing the first pages of 9/11 history, the passengers of Flight 93 were creating their legacy," said Miklaszewski.
The memorial service concluded with the victims' families entering the new visitor's center as Army Brass Quintet played "America the Beautiful."    
Pitt-Johnstown police officer Dwight Keim was working part time for Richland Township Police and worked part time for Pitt-Johnstown Police the day Flight 93 crashed, according to Police Chief Eric Zangaglia.
Keim said he didn't get back to campus until about 7p.m. for he was stationed at the on ramp of 219 directing traffic because that route was closed due to the crash.
  Classes were cancelled that day and all non-essential employees went home.
"All students that wanted to leave campus were allowed to," said Keim.
The police also increased security by monitoring people exiting and entering campus, according to Keim.
"Some people said they remembered hearing the plane fly over campus real low," said Keim.
Part of Keim's duty that night was to be available to students who had questions about what was happening.
Student Affairs Assistant Vice President Bob Knipple was working in an office in Blackington Hall the day the plane crashed.
He said there were rumors going around that a plane had crashed in New York City and another in Stonycreek Township. At that point he said they weren't sure if that meant the Stonycreek Township in Cambria County (which is only 4 miles away from campus) or in Somerset County.
A professor across the hall from Knipple turned on a TV and many were surrounding it. Students were worried about family and friends who were in New York, so Knipple allowed them to line up in his office to use the phone, according to Knipple.
The lecture halls in Blackington were used to stream the live coverage, according to Knipple.
"There was a lot of disbelief. It was like when JFK (former president John F. Kennedy) was shot," said Knipple.
Once Flight 93 was confirmed to have crashed, people were worried about more attacks, according to Knipple.
About half of the campus closed down, and most of the department heads stuck around since it was unclear as to what had happened. They weren't sure whether they would have to evacuate students off campus, according to Knipple.
Registrar Office employee George Hancock was working in the old bookstore at the time of the crash.
He was talking to a co-worker and they were watching the news when they saw a plane fly into the Twin Towers, according to Hancock.
"Everyone was glued to the TV, but we didn't fully comprehend what was happening," said Hancock.
About a month after Sept. 11, 2001, a 15k run, that circled the site of where Flight 93 crashed, was held to fundraise for the memorial, according to Hancock.
About the Contributor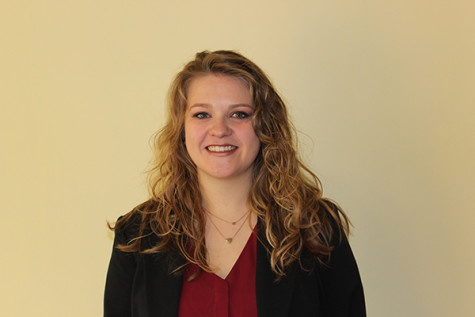 Kaitlin R. Greenockle, Editor-In-Chief

Graduated High School: 2011 Council Rock High School North (Newtown, Pa.)
Year and anticipated graduation date: Senior,  Spring 2016
Major/Minor:...