Limits, holes bedevil campus area drivers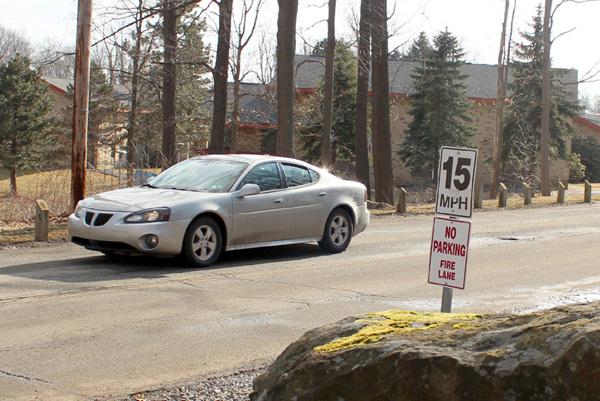 Potholes are difficult enough to deal with, but with questionable speed limits thrown into the mix, driving can be more difficult.
Sophomore Shania Leister said she doesn't enjoy the fact that every time she leaves the parking lot, she has to dodge potholes.
"I hate the potholes. I nearly run off the road when I drive over them," Leister said.
She said she even has difficulty when walking across the roads due to the potholes.
Leister also had an issue with the speed limits on and around campus.
"Last year I had to park on Highfield Avenue, and it was really hard to back out," Leister said.
She also said that, even though the limit is set for 35 mph on Highfield Avenue, people drive much faster than that.
"Being in between two schools, I don't understand how it's not a school zone," Leister said.
She said that she thinks that all the roads on campus and Highfield Avenue, even though it's Richland Townships jurisdiction, should be set at the same speed limit.
On Kunk's Drive, there is no speed limit sign.
Leister said she doesn't know what the limit is supposed to be, so she just drives and hopes for the best.
Police Chief Eric Zangaglia said that all campus roads are supposed to be 15 mph because of the number of pedestrians on campus.
He said that some people cheat on Highfield Avenue by going over 35 mph.
Zangaglia said there should be a sign on Kunk's, and that he will get one posted.
"If there is not one (speed limit sign) on Kunk's Drive, we will definitely get at least one posted," Zangaglia said.
Richland Township Police Detective Kevin Lehman said he hasn't heard of any  accidents but there probably have been close calls.
Lehman also said potholes cannot be fixed until the weather warms.
"It has to be warmer outside so the patch stays. If the patch comes out, a chunk of asphalt will be in the middle of the road," Lehman said.
Physical Plant Assistant Director Walter Kalista said due to unfavorable weather conditions plant workers have been temporarily filling potholes with gravel.
Lehman said in regards to the 35 mph speed limit on Highfield Avenue, he hasn't heard of many accidents, but there probably have been close calls.
He said the driver entering or crossing a road way is at fault if an accident occurs, so you have to be careful when backing out of those parking spots on Highfield Avenue.