Smith voted president again; 12 percent vote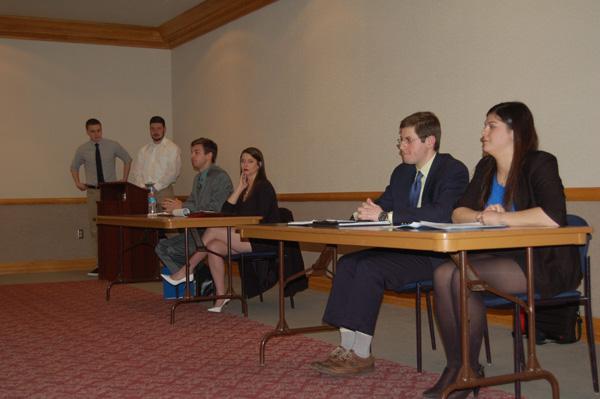 This year, Student Government Association members offered two presidential tickets to choose from, each with one president and one vice president, but that didn't help with the voter turnout of 12 percent of eligible voters.
The incumbent president and a new running mate won the election with 195 votes for president, about 7 percent of eligible voters.
President Shelby Smith, the incumbent winner, and her running mate, Kyle Maguire, debated opponents Nick Digiorgio and his running mate Madison Nick in a March 30 debate arranged by the candidates and other association members.      
Smith was running for president for the second year in a row, with Maguire, the current Student Policies Chair, who was running for vice president.
Digiorgio, current Campus Development Chair, also was running for president, with Nick, current Allocations Chair who was running as his vice presidential candidate.
The debate was mediated by sophomore Mike Shields and freshman Shane McGuire, both of whom serve as senators on the Foods Committee in the association.
Smith said their main agenda was to redo the budgeting process, and Maguire said he would like to work on improving communication with administrators.
Digiorgio said their platform mainly consisted of three agendas—student apathy, a student-leadership scholarship and the student government becoming more involved with the student body.
Nick added that they would like to revamp the budgeting process since she has experience being the Allocations chair.
Smith said she sees a president as being a liaison between students, faculty and staff.
"I have worked on having open communication this past year," Smith said.
Maguire said he views the vice president's role as being a liaison between the senators and the president.
Smith said, as president, she had helped rewrite the Student Government constitution, made a strong connection with the alumni organization and learned how to delegate roles to committees.
She also said she had worked closely with President Jem Spectar and won the presidential award for her role as the Student Government Association President.
Maguire said he had revised the alcohol policy, electronic cigarette policy and created a pothole map last year.
"I chose Maguire because we have worked on many policies together, which showed me how well we work and communicate well together," Smith said.
It was announced Friday at 9:59 a.m. to Student Government members through a group text message that 350 students had voted in the election with the Smith, Maguire ticket being the winner by 40 votes.