Class' effectiveness under scrutiny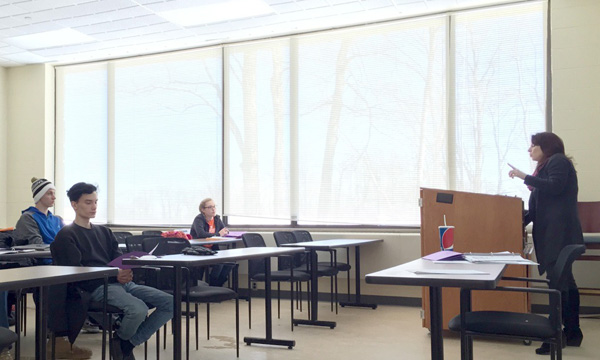 The University Scholarship class, which is required for all freshmen, is being questioned on its usefulness.
In 2005, the Faculty Senate voted that the class would be worth one academic credit, according to Academic Success Center Director Katherine Stahl Kinsinger.
Kinsinger said she has taught first-year seminar classes at Ohio University, Penn State and Pitt-Johnstown. Part of her job at Pitt-Johnstown is to come up with the curriculum for the University Scholarship class.
Kinsinger said that the way the class is set up as an extended-orientation seminar type, which is the most popular type of first-year seminar class among administrators, according to a 2012-2013 First-Year Seminars National Survey.
"I'm concerned for what will happen if we change from an extended-orientation course," Kinsinger said.
She said the class feeds other departments. For example, the tutoring utilization increased after the class was developed.
"I know the class isn't perfect. We work hard to change it every year, and each year, evaluate the course," Kinsinger said.
She said she was not involved in writing a survey now being circulated on the class' usefulness, but welcomes any criticism to better the course.   
Academic Mentor Tessa Smith assisted with the scholarship class as part of a mentorship program.
Smith said the survey is to measure how useful the class is and ask respondents to discuss and evaluate whether the course connected students to campus resources.
She said she thinks the class serves as an excellent tool for students to prepare for undergraduate study.
"Obviously, I wouldn't participate in a mentorship program if I felt it was ineffective," Smith said.
She said she noticed that many offices use the course to market services and to get information passed along quickly.
"Of course, I've heard complaints of the class being boring or unrelated to students' majors, just like I have heard complaints that Math 0001 or Geography are a waste of time," Smith said.
Freshman Mitch Evans said, from what he could remember having taken the class last semester, it was a waste of time and he could have done more useful things during that time.
"I would be bored out of my mind, and the activities we would do didn't seem to have meaning behind them," Evans said.
According to Smith, students resent a lot of their general-education classes but then find that the skills they learn in those classes end up being vital for their success.
Sophomore Jeffery Adams said that his professor, Jeremy Justus, told him about the survey on the scholarship class and took it since Justus is one of his favorite professors.
Adams said he got little out of the scholarship class except for learning how to schedule his classes.
He also said he didn't like the class text, "The Element" and didn't find inspiration from it for, in his opinion, it was poorly written.
"It came across as Ken Robinson summarizing a bunch of Wikipedia articles on famous people," Adams said.
Smith said the class is a great transitional tool for first-year students and teaches them how to learn time management.