Students displaced after pipes burst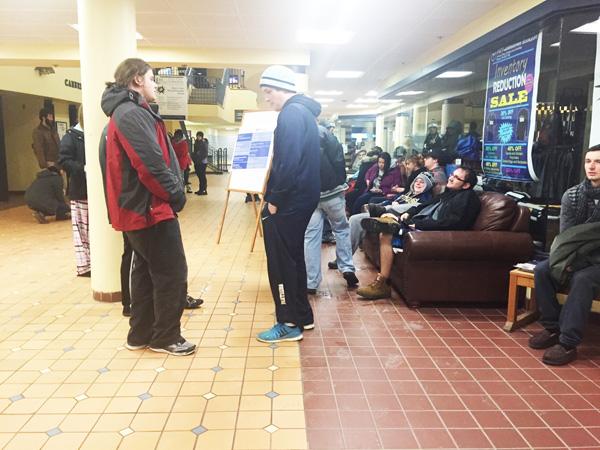 Approximately 40 Hickory Hall residents were affected by water leaking into rooms Feb. 15.
Resident Cassidy Fletcher said she and her roommate, Tessa Spearing, had returned to their second-floor room after a weekend at home to find the sprinkler head above their bathroom sink hanging off and black water dripping from it.
Around 6:30 p.m., Fletcher said, she submitted an urgent maintenance request for the leak to be fixed.
The ceiling tiles didn't fall until about 10:30 p.m.
Resident assistant Ryan Siatkowsky said Fletcher and Spearing showed him the leaking water, which they had falling into a bucket. He was asking another resident assistant for help when he heard a crash and a yell, he said.
Fletcher and Spearing said the ceiling tiles around the sprinkler fell on them, hitting them and drenching them in dirty water.
Fletcher said at some point, she called campus police and, in a panic, tried to explain what was happening.
Siatkowsky said he found Fletcher and Spearing soaked. He told them to leave the building and ran along the hallways telling other residents to do the same, he said.
Spearing said that a fire alarm was sounding, and people were leisurely exiting. She said they assured residents they passed that there was a legitimate reason to leave.
Campus police arrived quickly, Siatkowsky said, and told residents standing outside to go to the Student Union's Cambria Room.
At around 11:20 p.m., Siatkowsky said, Housing Director Mark Dougherty arranged with affected students whether they would spend the night in friends' rooms or stay in emergency rooms.
Fletcher said Dougherty and First-Year Halls Area Coordinator Steve Torquato were helpful in explaining what was happening.
Siatkowsky said residents were allowed to return to their rooms at around 12:30 a.m. to collect some items and assess damage. He said a damaged-item list was given to Dougherty.
Siatkowsky said he saw about a centimeter of water covering the second floor wing where the leak started, and about an inch covering the first floor wing beneath it.
University President Jem Spectar was present when students were retrieving their items, Siatkowsky said.
Spearing said she and Fletcher stayed in an emergency room in Hawthorne Hall, though they weren't settled until 4 a.m. They said they were given a small towel, a set of sheets and a blanket for that night.
Spearing said many of her belongings were damaged. Her laptop was damaged, she said, her food was ruined and their fish's tank polluted. The fish lived.
She also had textbooks, a photo album and tax forms ruined.
Most of her clothes, she said, were taken by staff to be dry-cleaned because the dirty water reached them. A posted flier advertised this service to all affected students.
Residents on the wing's first floor had even more damaged items, Siatkowsky said. He said he heard that a laptop and Xbox were ruined.
A flier said the university was not liable for any damaged items.
Spearing said she wondered why residents were not covered by or given the option to buy renter's insurance, since a similar water issue damaging students' belongings happened in Maple Hall last year.
Facilities Management Director Andrew Walbeck said the leak was separate from last year's events.
A flier encouraged students to check their parents' homeowner or similar insurance to see whether damaged items would be covered under that. It also read that students were allowed back into their rooms at 11 a.m. Monday.
Walbeck said custodians cleaned all of the water quickly. A flier said custodians bagged encountered wet items.
Fletcher and Spearing said their floor was brown and smelled foul when they returned. Spearing said many of her wet clothes were unbagged, some belongings were thrown away and some items still dripped heavily when lifted.
A large pipe section sat on their sink counter when they returned, Fletcher said.
Walbeck said the leak was from a frozen sprinkler pipe. The insulation surrounding the pipe was inspected to ensure cold air could not reach it, he said.
Siatkowsky said many residents' heaters didn't function properly prior, including his own. He said he thought some residents had filed maintenance requests, but he had not.
Walbeck said building damage was only a few ceiling tiles. A flier read that humidifiers and fans were distributed to help with drying.
Fletcher and Spearing moved into Maple Hall. Spearing said the moving process, which they did alone, took 10 hours.
"(The incident) didn't feel real," Fletcher said.
"It still doesn't feel real," Spearing added.