Red Box contemplated for new entertainment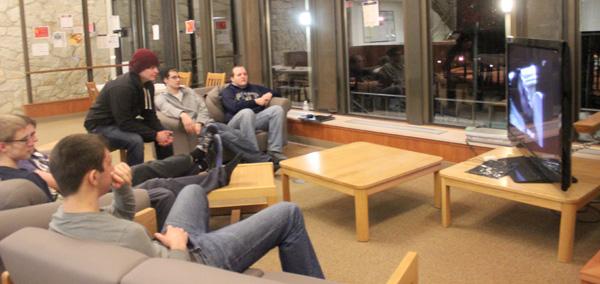 Student Government Association Senator Antonio Wolfe has started a process to add another option for students' entertainment in winter months by looking into getting a Red Box kiosk on campus.
He said he learned that St. Francis University personnel had purchased their own Red Box type of machine, and, within a year, it produced enough business to subsidize the machine's cost.
It ended up being so profitable at St. Francis University that their Student Government was able to use profit to fund concerts and other events, according to Wolfe.
Wolfe said he has been in contact with a few St. Francis' students to see whether their students like the machine location.
"I also looked into an actual commercial Red Box, but the legality issues are complex," Wolfe said.
Student Government Association's Campus Development members also are involved with this process, and soon, Student Affairs Vice President Shawn Brooks, also the association's adviser, will be told of the idea.
Campus Development Chair Nick Digiorgio said they are currently in the process of filling out an application to get a Red Box representative to give an estimate and advice on location and feasibility.
"One of our ideas, in hopes of getting an estimate on foot traffic, was to place a table on the Student Union's second floor with a cardboard cutout of a Red Box with a counter," Digiorgio said.
He said they would make a sign that is to ask passersby to push a counter button if he or she would use a Red Box at the location.
"We are currently in the developing stages of our proposal but are hoping to have more information to release in the coming weeks," Digiorgio said.
Junior Divya Ramalingam said she would use a Red Box on campus if there was one.
"I think it would be great business. It's cheap, reliable, and convenient, since no one really wants to drive anywhere in the winter," Ramalingam said.