Log-on times shorten the time for teaching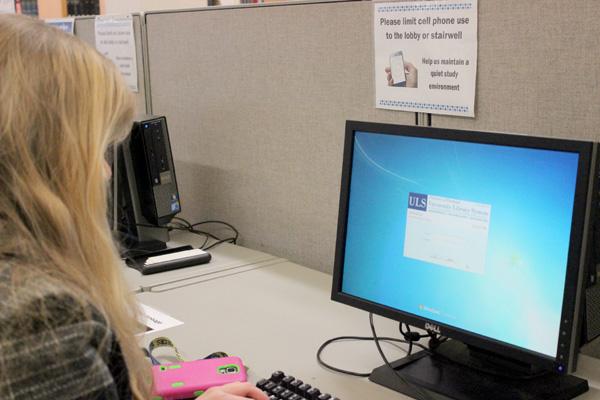 Between typing papers, completing online assignments, and checking for important emails, many Pitt-Johnstown students require frequent computer usage.
Many carry laptops, but, for those who do not, the university provides computer labs in Owen Library and Blackington Hall for student use.
Yet for many who rely on these labs, this solution is turning into a problem.
Gabrielle Williams, a Pitt-Johnstown student, experienced trouble when attempting to print an assignment in a Blackington lab.
"I wanted to print a paper before class, but, after 15 minutes, I still wasn't logged in, so I had to leave," she said.
Students are not the only ones having issues. Many professors also rely on the computer labs to teach classes.
Travis Stouffer, a Pitt-Johnstown business said he has taught classes in which time was eaten away by slow computer sign-ins.
"I've had my class delayed by as much as 20 minutes while we waited for my account profile to load."
Stouffer said he was able to fill the lost time in some cases with unplanned activities.
"(It) threw a wrench into my scheduled plans for that day and subsequent classes."
Rob Eckenrod, User Services Director, claimed the slow sign-in speeds were due to an upgrade to the images used in the computer labs that took place during winter break.
"The image is a collection of software on the computer, and, due to the volume of it, start-up procedures may be slowed down," Eckenrod said.
"Due to the upgrade over Christmas, no other computers have as much software as these."
Because of the complexity of the update, Eckenrod said that, especially when one first signs in to a computer, the process can take a significant amount of time.
To combat this problem, Eckenrod and his staff are working to reduce the image size.
One method they are employing is the saving of certain software on cloud-based servers as opposed to the computer itself.
Another method is putting an automated system in place that remotely restarts every computer overnight, allowing for a "clean slate" in the morning.
"The problem hasn't been completely fixed yet," Eckenrod said, "We're still trying things."