Sodexo employees now offer delivery services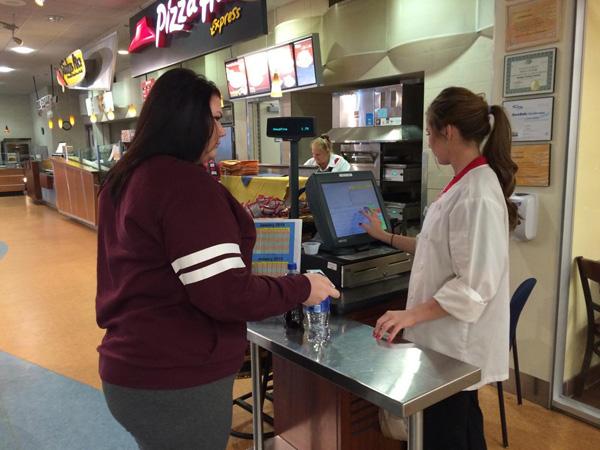 Beginning Tuesday, students on campus are to have a new option for late-night dining without having to leave the warmth of their rooms. Sodexo employees are to begin a delivery service.
The menu available for delivery includes selections from the Mt. Cat Club, Pizza Hut and Subway. The Mt. Cat Club and Pizza Hut have 17 items on the menu, not including drinks. The menu also offers made-to-order foot-long sandwiches.
The one-page menus were to be distributed in residences. Using a menu, students wishing to order delivery are to call (814) 269-7878.
When called, employees are to write down students' orders, phone numbers and room numbers. They are to provide students with an estimated time of delivery.
Employees are also to record students' identification numbers for purchasing. The transaction can be conducted without needing students' cards.
As of last Thursday, it was not decided whether students would use their seven-digit student identification number, or the number listed along student identification cards' bottoms.
No delivery fee is to be charged, but there is a $5 minimum purchase.
Delivery is to be offered from 7 to 11 p.m. every day. Sodexo manager Victor Costlow said these hours could be extended in the future.
Costlow said he wanted to start with a small and simple menu and modify it as the service is used. He said that menu items may also be changed based on popularity.
Sodexo employees used to deliver food years ago, he said, when Chaser's was a restaurant on the Student Union's lower floor.
The service grew unpopular because students preferred to go to the Student Union to get out of their rooms, he said.
"But the need is there now," he said, referring to students' shift back toward wanting delivery.
Deliveries will be made primarily by student employees, he said, unless the student employees are all busy at the time. As of Thursday, Costlow said he was working with Housing and Information Technology officials to get student employees access inside the buildings, so they could deliver directly to students' doors.
The idea to deliver was brought to him by student senators, Costlow said.
Student Government Association Foods Committee chair Megan Taylor said she and her committee members asked Costlow for delivery last semester.
Sophomore Erin Penzelik said she would use the delivery service. She said she would be more likely to have food delivered than go to the Student Union to eat, especially during the winter.
Penzelik also said she may be more likely to order Sodexo food than off-campus food services, now that Sodexo employees deliver.