Moxham light up event kicks off holiday spirit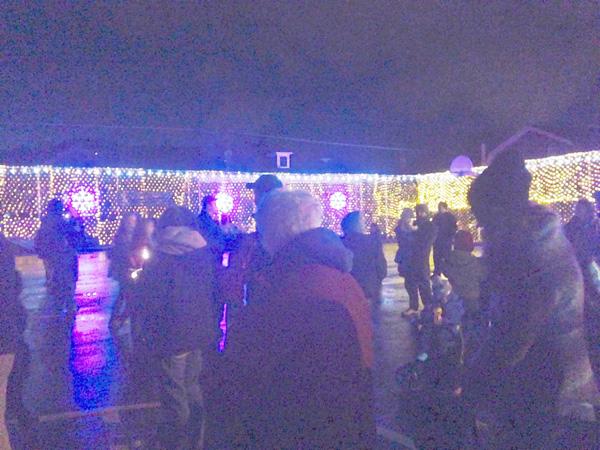 Students and community members gathered Monday at Moxham's Park Avenue Playground to attend a Light-Up Night.
More than 21,000 lights provided a display that quieted a sometimes-talkative crowd of 110.  Gold lights spanned a chain-link fence, spotted with large blue snowflakes.
After the lights were powered, an announcement was made for children to accept a gift at one of three tables, differentiated by age range.
The gifts were books.  PJ the Mountain Cat greeted the children.
The event began with the 39-member Pitt-Johnstown chorus singing.  People crowded near hot drink refreshments on the playground's blacktop on a cold and breezy December evening already dark.
Pitt-Johnstown President Jem Spectar said the lights were symbols of good will.
He reiterated Pitt-Johnstown's efforts in the Moxham neighborhood, including renovation of another playground and plans to lend a hand demolishing some of the neighborhood's blighted buildings.
Spectar said he hoped to continue growing a presence in Moxham.  Small electric candles were passed around to children, students and community members.
Spectar told the crowd that the candles should sit on their windowsills as a symbolic gesture.
Johnstown Mayor Frank Janakovic also spoke, thanking Spectar and Pitt-Johnstown students for their efforts.
Moxham Renaissance member Barry Gallagher spoke last, highlighting the benefit of a university seven-year plan, and his expectations for the neighborhood's future.
Following the speeches, spectators joined in counting down 10 seconds toward the powering of the lights.
Nicholas Fedusa, a chorus member, said the lights were nice and festive. He said he liked the blue and gold color-scheme, and he enjoyed being a part of the event.
"It felt pretty good, especially since we got to help strengthen our connection with Johnstown and improve the local communities," he said. "It's always heartwarming to see positive strides in improving communities around us."
Moxham resident John Bowman, who lives along Park Avenue, said the event helped give community members a new perspective.
"It is bringing a lot of people together to be aware of how nice this community used to be."
Bowman said he sees a lot of good in the area he lives in, and that it should be shown in a better light.
Bowman said he appreciated the gifts given to the children.
"Giving things to the children is very nice," he said. "There are a few families in town who don't have that opportunity (for more Christmas gifts)."
Bowman said he had watched workers hanging the lighting arrangement.
Two school bus drivers delivered Pitt-Johnstown students and chorus members to the event.
Shortly after the children received their books, an announcement was made that the buses would take students back to campus in a ride in the darkness outside the city.