Students digest more than just food at meal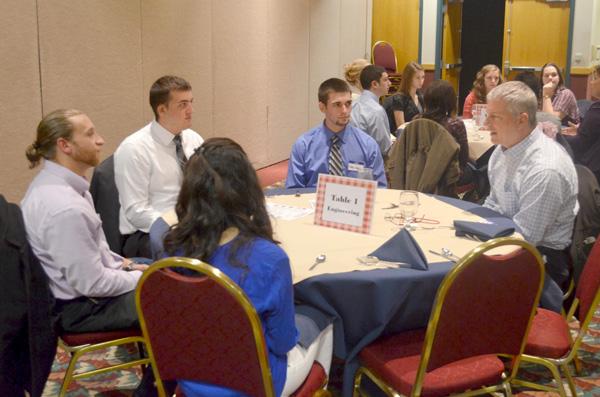 Students shared a meal around tables last Thursday with alumni who have careers corresponding with their degree.
There were 32 people attending the dinner, of which 23 were students. After the meal, students asked alumni more in-depth questions.
Students stayed at the table of their respective majors until a half hour later, 6:30 p.m., when it was announced they could move to a different table. Few, if any, chose to move.
More students attended the education, nursing and engineering tables, nearly filling all the seats. The writing, business and accounting tables were less attended, but were still utilized.
Pitt-Johnstown Assistant Professor Kurt Klavuhn, Mechanical Engineering Technology Department, advised students at the engineering table.
Klavuhn advised his students about what employers look for when hiring. He said if students are complacent, it offers competitors the opportunity to outshine them.
"They want problem-solvers."
Alumni representatives Jared Dykes and Greg Grimes shared insight with students about interviewing for positions.
Grimes recommended ideas and strategies on interview behavior. He said the students should walk into the interview with swagger and confidence.
"(Walk into the interview as if) they would be winning if they got you."
Accounting representative Jenifer Zelinsky talked to students about certified-public-accountant exams.
Zelinsky said the exams are not always necessary for some companies, but companies typically require education for these exams.
Nursing representative Samantha Smeltzer received a few laughs from her light-hearted jokes about studying and what students may experience during clinic hours.
Freshman Kelsey Wareham said she enjoyed her time at the event, feeling comfortable and open throughout the discussion.
"I expected it to be a lot more formal, but I was glad to see it wasn't as formal."
Accompanying the laughter, Wareham said Smeltzer provided honest stories and examples to help students understand the nature of this career choice.
Wareham said she appreciated Smeltzer's advice about the direction she would like to take with her degree.
"I knew I needed a master's (degree), but now I know I need my doctorate," she said. "She gave a lot of extra tips, too."
Eli Garshnick and Jonathan Rutledge represented the education table. Rutledge said the group discussed class management, interview skills and what to expect in the field.
Rutledge said he is on the alumni board, and received an invitation to participate.
Rutledge said he hoped to give general advice to students on adjusting to their first year and the challenges they may encounter.
"Also to offer support because it is tough to find a teaching job in Western Pennsylvania."
Kevin Keen represented the writing table, giving advice about taking the graduate record examinations and graduate school. He also discussed alternative career paths.
Senior Shelby Smith, Student Government Association president, accompanied those at the writing table. Smith is pursuing a degree in psychology with minors in communication and political science.
Smith said she was interested to see the different career paths available. Through her discussion with Keen, she came upon an understanding about her future.
"Even though you have a set plan of what you want after college, you might end up somewhere else, and you might like it more than you realize."
At 7 p.m. students and representatives finished their discussions while putting on coats, and walking to their snow-coated cars.