Candidates duel for congressional seat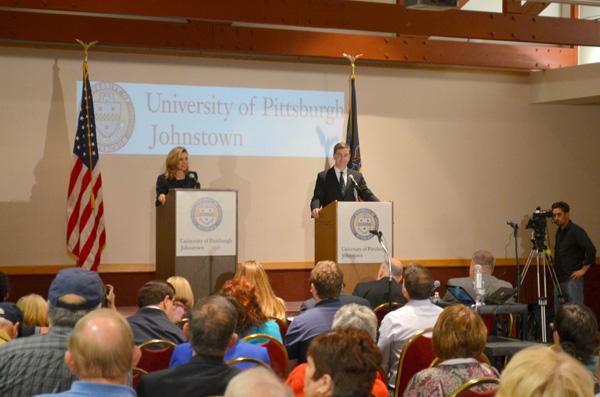 U.S. House representative candidate Erin McClelland debated with incumbent Keith Rothfus Friday in Heritage Hall.
Democrat nominee McClelland is challenging Republican Rothfus for the 12th Congressional District.
About 200 people  attended the debate, forcing debate staff to provide additional chairs. One such attendee, John Sinosky of Westmont, said he attended hear the candidates' positions.
Sinosky said his primary concern was national security, since he worked in the field 35 years.
"It tears me apart to see national security going down the tubes because of poor leadership," he said.
For Sinosky, the decision for whom to vote seemed clear, even before the debate.
"There's only one candidate here: Rothfus. I'm very conservative; I believe people should work for a living," he said.
Another attendee, Ernie Esposito of Johnstown, took a different approach to people working by siding with McClelland.
Esposito said he is the Johnstown Regional Central Labor Council president, and the United Steelworkers' subregional director.
Esposito came from a family of 12 people, he said, and knew what it was like to ask for handouts.
"I'm proud to say that (I had to ask)," he said.
McClelland addressed the region's hard workers in her opening statement by saying she hoped to work for them.
She said she inherited a world worse off than her parents' world, and, at the current rate, her son was likely to inherit even worse. She attributed Congress' gridlock to a blame game, and said she hoped to fight against it.
Rothfus opened by sharing his record of solved constituent service issues and creating an office in Johnstown. He also said some legislation he introduced, such as a law disallowing Congress to be paid if it doesn't complete its job.
Rothfus and McClelland were asked the audience's questions by moderators Bo Moore of WCRO Radio and Chip Minemyer of The Tribune-Democrat. The debate was hosted by Pitt-Johnstown political science professor Ray Wrabley.
Rothfus said that to address the federal debt, Congress should control spending and balance the budget. He said people need to get back to work, and that Washington, D.C., is rich at the expense of everywhere else. He said he wants to get D.C.'s money back to western Pennsylvania.
McClelland said that austerity measures have been unsuccessful, and that Congress needs more realistic economic policies. She said the trickle-down economics concept is a fallacy. She called discussion to of tax increases, and for defense contracts to stop being outsourced.
Rothfus's stance on Ebola is to cancel visas to West Africa, he said, and to make government health agencies be consistent in their response. McClelland said people should stop treating Ebola as airborne, and take the opportunity to address all disease deaths in health care facilities.
McClelland said she has dedicated her life to combating drug abuse and that she would coordinate efforts on the ground to combat drug addiction. She also supports medical marijuana, saying research supports its use and illegalizing it is not working.
Rothfus said that if medical research supports its use, he must be open to its medical legalization. He specified that he would never support a broad legalization of it because businesses have a liability when employees use it.
McClelland said raising the minimum wage is essential and inarguable. She said it will decrease jobs by .3 percent immediately, but that a higher demand on goods and services will lead to a better economy in the long run. She said raising the wage will get people off welfare and eliminate the working poor.
Rothfus pointed out that .3 percent of jobs is 500,000 people being fired, and that low-paying jobs are important for youths to learn and get work experience.
Despite audible support for both candidates, most agree it will not be a close race.