Chancellor begins bond with campus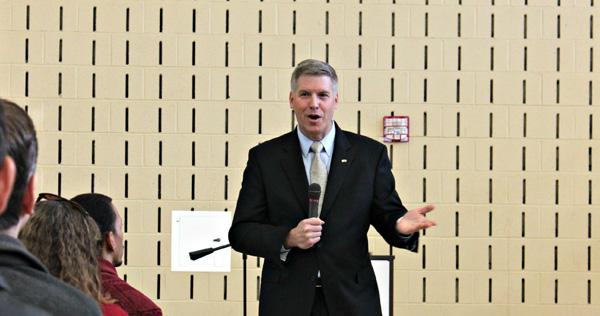 On Oct. 6, in Pitt-Johnstown's Cambria Room, Patrick Gallagher, the university's new Chancellor, shared one reason he took the university's top position because of his love for students.
"I love being around students; you keep us young and you have such potential," Gallagher said.
Another part of taking on this position was that he could give back to his graduate school community. He went to graduate school at Pitt and graduated with philosophy and physics degrees.
He was a high school teacher for one or two years before spending the rest of his career working for the government. Now, after 21 years, he has returned to education to fulfil some goals.
"I love being around students, giving back to the public and wanted to be a part of making the world a better place," Gallagher said.
He also got some love back from students when they presented him with Pitt-Johnstown themed gifts, among them a tie, sweatshirt and pen.
Also at the student session, Gallagher was presented with Pitt-Johnstown- themed gifts, including a tie, zip-up and pen.
"No other campus has done this (given me gifts). Thank you all," Gallagher said.
He started off a student-focused session by saying he was the new guy and told students a little bit about himself. He made sure to keep that part brief so that students had enough time to ask him questions and get to know him in a more informal manner.
Gallagher, holding the position of chancellor for only two months, explained that he is visiting all the Pitt campuses, not just so everyone can meet him, but so he can meet everyone.
As an undergraduate student, Gallagher said he would have been drawn to this regional campus because of its beauty and sense of community had he not attended Benedictine College in Atchison, Kan.
Junior Victoria Mercado asked Gallagher what he expected for Pitt-Johnstown in 10 years.
"I believe higher education is going to have a big change.
"There will be an increased linking with local business, and I believe there will be more job-related experience in education," Gallagher said.
Sophomore Nick DiGiorgio was interested in what advice Gallagher had for students interested in graduate school.
"It's important that you find a place to fit in and network with faculty," Gallagher said.
Regarding any increased university funding for the Pitt-Johnstown operation, he explained that only being in his position for two months, he has not yet seen budgets, but he wants Pitt-Johnstown to be successful.
He also explained that one challenge he sees for Pitt-Johnstown is a shift in student demographics, such as a shrinking graduating class size.
Gallagher said Pitt-Johnstown's leadership of a community in a long-term economic decline could be a challenge as there will be a shift in area employers in any Johnstown Renaissance.
"The community Pitt-Johnstown is a part of is a great strength, I believe the university is going to be the shaping force in the community," Gallagher said, in response to a question from Housing Director Mark Dougherty about Pitt-Johnstown's strengths and weaknesses at a staff session.
He also commented on the issue that students face when transferring among Pitt schools and all of their credits not being transferable.
"We are working on syncing up credits so that more of them will be accepted Pitt wide," Gallagher said.
One issue that professor Marty Rice questioned Gallagher on was the future of the Pitt-Johnstown Humanities Division. Rice was concerned that the division is starting to die out, and wanted to know what Gallagher's thoughts were on the matter.
"I share your concern. The board of trustees are working on a strategic plan," Gallagher said.
He continued to say he thinks the liberal arts and humanities are not going to die out, but change. They're most likely going to become a more data rich environment and degree program structures may need to be rethought.
Gallagher, having his undergraduate in liberal arts, said that we can't be passive when it comes to the liberal arts, and he values it as a part of higher education.
Faculty brought up the issue of keeping Pitt-Johnstown a reasonably priced university.
Gallagher explained that tuition is closely linked to the university's enrollment rate, but he is going to provide state representatives with the data and information on why Pitt schools should be granted more state funding.
"The point I want to make to state (representatives) is they will drive people out of Pennsylvania schools if tuition continues to rise," Gallagher said.