'Wild Boy' to headline spring show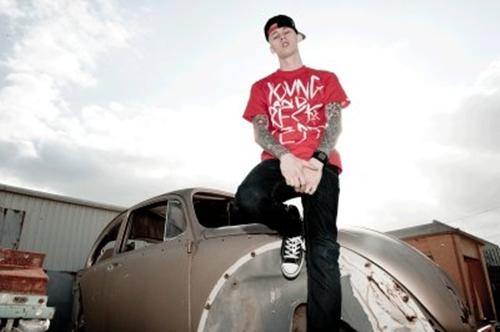 Survey results are in, and Pitt-Johnstown Programming Board members say they are giving responding students what they most wanted. Lead vote-getter and Cleveland rapper Machine Gun Kelly is to headline the Spring Concert.
Machine Gun Kelly, a Bad Boys Records artist, received the most votes in a Programming Board survey conducted last semester, according to Student Life Director Sherri Rae.
Opening for Machine Gun Kelly is to be the rapper Sage the Gemini. This year's Spring Concert may bring you a more diverse sound than years past.
Some students might think that having two rappers will not bring a diverse sound, but, with heavy influences in the hard core genre, Machine Gun Kelly offers sounds not used in rap music.
According to Rae, this was also one of the factors in booking the opening act, "He's been on Warped Tour so he attracts a more rounded crowd," Rae said. "Basically, it will have a sound everyone will like unless you only like country music."
Young enough to be a senior at Pitt-Johnstown, Machine Gun Kelly can bring to the stage the stories of his past struggles and his love of, "Raging."
"Machine Gun Kelly concerts aren't like other rap concerts," said sophomore Bobby Myers. "There are mosh pits, people crowd surfing and [Machine Gun Kelly] encourages it."
Most famous for his "Wild Boy" song, Machine Gun Kelly brings that to his shows, normally known for climbing speaker stacks and even hanging on to lighting equipment.
While students will have to wait through the opening act to fully rage, Sage The Gemini may have students 'grabbing the wall.'
The California rapper blew up in the hip hop scene last year when he released "Gas Pedal," which had fans shaking it like a "red nose." The Bay Area rapper is a member of the Heartbreak Gang rap crew led by artist IAmSu!, who was featured on Sage's certified platinum single "Gas Pedal."
Junior Anisah Baylor is satisfied with Programming Board members' choice.
She listens to rap and is familiar with Machine Gun Kelly, but is not a huge fan.
She said another artist could have been chosen, but she understands limitations like budget.
Baylor plans to attend the concert, especially at the price.
"I'm going for sure," she said. "I just wouldn't pay $50 for it."
Despite the rappers' popularity with the voters, not all students are pleased.
Sophmore Maximillian Tate said he doesn't listen to the rap genre, preferring classic rock.
Tate said he doesn't plan to attend the concert.
More students may be pleased when Programming Board members book the second opening act.
The rock band The Maine was originally planned, but the band backed out in favor of a European tour.
Whoever accompanies them, students can look forward to Machine Gun Kelly April 11 in the Sports Center. It will cost $10 for a ticket.