One of two parking proposals survives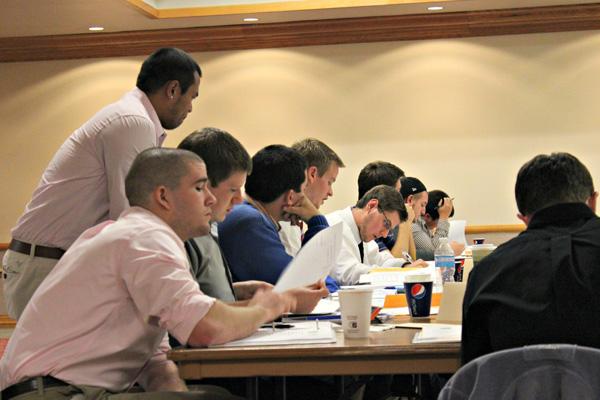 Debate raged Nov. 5 in the Cambria Room as Student Government Association senators argued over parking proposals. Senators are tackling parking on campus, which many view to be a problem.
One of two proposals that would have eliminated parking passes was voted down.
The other has yet to be voted on as senators offered mainly criticism, while debating the two plans.
The two proposals were presented to the association: one advanced by Student Affairs and Campus Development Committee members, and another by Student Policies Committee members.
Senator Shelby Smith said senators have strong opinions on the proposals, which led to thorough debate.
Student Affairs and Campus Development members' proposal was discussed in last week's Advocate article, "Colorful Parking Plans Proposed to Fix Issues."
The proposal involves dividing parking into lots coded by rotating color-shape combinations, dictating where students are permitted to park based on their housing with enforcement based on a punitive point system.
The proposal's advocate, Student Affairs and Campus Development member Allen Skoranski, said it eliminates student confusion on where they're allowed to park.
"It takes the current parking situation and organizes it," he said.
Smith agreed that towing should be enforced, as proposed but found many flaws.
The proposal is not feasible and is too complex since it needs to be amended every six years, she said. The point system is not practical because tickets can be lost because of weather.
The color-shape system would also make enforcement more difficult, Smith said. Police enforcement is already a student complaint, and all police have to consider now is the presence of a pass.
Parliamentarian Cliff Maloney Jr. objected to the proposal's enforcement emphasis.
"The fact that SGA members, as representatives of the students, would ask Campus Police to enhance ticketing operations on campus blows my mind," he said. "We have a duty to fight for what is in the best interest of the student body, not the opposite."
The proposal was amended Nov. 5, cutting its sections on enforcement, unregistered vehicles and color-shape designation. The proposal's main features are focused on parking designations based on housing along with lower fines.
Skoranski praised the edited proposal because it excludes enforcement.
"We were focusing on enforcement, which would hurt students," he said. "That's not the mission; it's to educate and inform the students of where they can park."
Smith said she approves of the edited proposal more because it cut much of what she disagreed with.
"Although I don't fully agree with all of the sanctioned areas in the plan, I think it is a good proposal to bring attention to the complaints of the students to the administration," she said.
As of Nov. 8, neither the original nor the amended Student Affairs and Campus Development proposal had been voted on. The Oct. 29 and Nov. 5 meetings both ended before either could be voted upon because too many senators left for a vote to be viable.
Student Policies members took a different approach to parking in their rejected proposal. They aimed to eliminate parking passes, according to Student Policies co-chair Josh Beck.
Maloney agreed with the proposal.
"It saves students $85 each year," he said.
Although Smith is a Student Policies member, she did not agree with the proposal.
She said passes are needed to distinguish those who belong on campus. She also said students should pay for the facilities they use, likening the situation to housing.
Skoranski agreed it would be nice for students not to pay a parking fee, but said it was not practical.
Removing the fee would increase the road-maintenance and snow-removal deficit, he said. University administrators would have to pay through other means, such as a tuition cost boost.
"If they (raise tuition), essentially we are taxing every student for parking regardless if they have a car or not," he said.
He also said Student Policies' proposal would worsen the current parking free-for-all because there are not enough spaces for every student, and community members could not be blocked without a pass system.
Senators voted on and rejected Student Policies' proposal Nov. 5.
Smith said senators have been working hard on the proposals, and hopes that administrators will find a compromise.
Smith said whatever advances for administrators to consider will still be controversial but well-rounded, and heavily supported.