The Dream comes alive with multimedia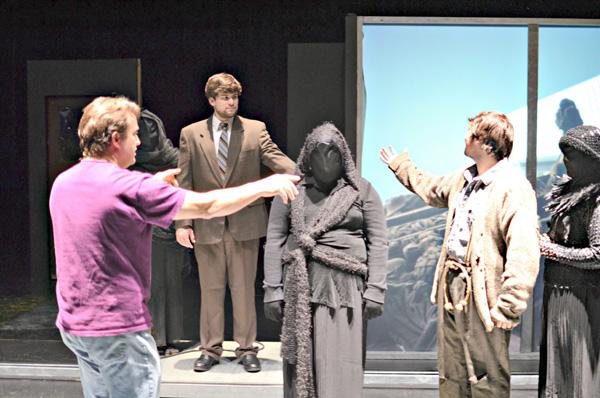 The Pitt-Johnstown Theatre Department is to embark on a new adventure by putting on a multimedia play, "The Dream Play."
The original play was written by August Strindberg and was adapted by theater arts instructor John Teacher.  The play is to run Oct. 31, Nov. 1 and 2, as well as Nov. 7-9.
Teacher said that there is a 14 people cast and 43 working on the production.
Teacher said that he basically took the play and edited it down 50 percent. It's a multimedia play with moving images and projections. There will be integrated technology one computer with a slip screen, with one person controlling it. The play will run about 80 to 90 minutes.
Teacher said he kept the quintessence of the piece.
The play follows a girl named Angus and her relationship with three people: a guided friend, a lover and an adviser.
"Editing has been an on going process," Teacher said.
He said the actors had to take a leap of faith with him. They sometimes didn't know how things were going to work out.
Senior Kevin Keen agreed. Keen said that, at one point, he wasn't sure how a certain scene he is in was going to play out.
The characters are not stereotypical, according to Teacher.
Teacher said audience members are going to be able to relate to the characters and say, "yeah that's me," or, "That's that other guy."
"Audience members will be emerged in (the play) and then thrust back into the world," Keen said.
Teacher said that some audience members might need time to comprehend it. "The Dream Play" requires thought.  Teacher also said that it's like a dream.
"(The set is) definitely not in one location," Keen said.
Keen said that it was the first time he had never done anything like this and that he enjoyed it.
"(This will be) the first time a Pitt audience will be exposed to this," Teacher said.
Keen said no one is to be allowed in late. Both Keen and Teacher said that, if people were to come in late that it would interrupt the flow of the play. They also mentioned that there is to be no intermission.
"(It has) been a long time since I've been this excited (for a production)," Teacher said.
Tickets for "The Dream Play" are on sale now at the Pasquerilla Performing Arts Center box office. Student price is $5 and $10 for non-students.