Students step in to save librarian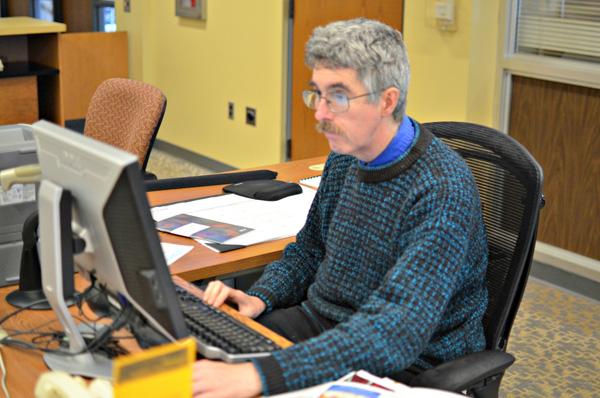 Pitt-Johnstown Librarian Jim Langan just wanted to relax a few weeks ago after having lunch in Owen Library.
It was a mild fall day, Sept. 30 — a great one to spend some time outside.
He walked to the campus mall around 1:30 p.m. and sat on a bench facing the new nursing building. He frequently took pictures of it during its construction.
"They took (the benches) out since," he said. "Probably for winter storage."
Langan's next sight was a hospital room a day later.
He had suffered a heart attack but he said he remembers nothing.
"My heart stopped, and I guess a student helped me," he said in an Owen Library office, wearing one of his signature sweaters so many recognize him by.
This one was navy blue, but he also had a wire dangling peeking out at the sweater waistline. It belonged to a heart monitor.
Freshman Kyla Colcombe was the first to find Langan. He was slowly slumping to his side on the bench.
"I walked over and said, 'mister, are you all right?'"she said.
He didn't respond, so she sought help.
Many people ignored her requests for help and kept walking, she said.
"I started screaming for help and grabbed two students, and we laid him down because of the way his neck was resting."
One of the students called 911, and shortly after, called campus police, Colcombe, said.
Seven students ran off to find a portable defibrillator, but no one was able to find one, according to Colcombe.
Junior nursing major Catherine Anderson said she is aware of two defribillators on campus and said that it would be good to invest in more.
"CPR can be a very long process … it's not like the movies. You could be pumping on somebody's chest for 20 minutes before anything happens," Anderson said.
Nursing Chair Diana Schroeder rushed Anderson and her classmates from a pathophysiology class to the scene to assist, if needed.
Students and staff had been working to help Langan.
Students elevated his feet and a woman performed chest compressions, said senior Marlayna Wright, who was among the first responders.
"Right after she started, he began gasping for air," Wright said.
Roughly 15 minutes after being called, campus police arrived, according to Wright.
They didn't bring a defibrillator with them, though, Colcombe said.
Police Chief Eric Zangaglia declined to comment, other than to acknowledge that a medical event occurred to a staff member and CPR was performed.
Colcombe says that the officers determined that Langan stopped breathing again and performed CPR until paramedics arrived, minutes later, taking Langan to a hospital.
Langan returned to work last Monday and is doing well, he said. Doctors told him he shouldn't lift anything heavy for a while. He's also a little sensitive to dust as a result.
"Sometimes if I talk too much or work with old, dusty books, I'll cough a lot."
Doctors are trying to figure out what caused the heart attack, Langan said.
He says doctors told him that they chilled his body to 91 degrees Fahrenheit once he arrived. Then he was put in a coma for about a day. They also gave him an MRI and CT scan.
"I still don't think they know what happened. They'll figure it out and have to name it after me," he says with a pause.
"No they'll name it after the doctor who discovers what it was," he says, laughing.
"I guess I was a little loopy afterwards. I woke up and called my wife and said, 'I had a heart attack.' She said, 'I know, I saw you yesterday.'"
Langan is getting back into a typical routine and held his first library workshop last Wednesday to help students' reasearch skills, since being in the hospital for about a week.
He's also been making rounds to thank those who helped save his life.
"I really appreciate the police and students for doing CPR to help me," he said.