Nursing building opens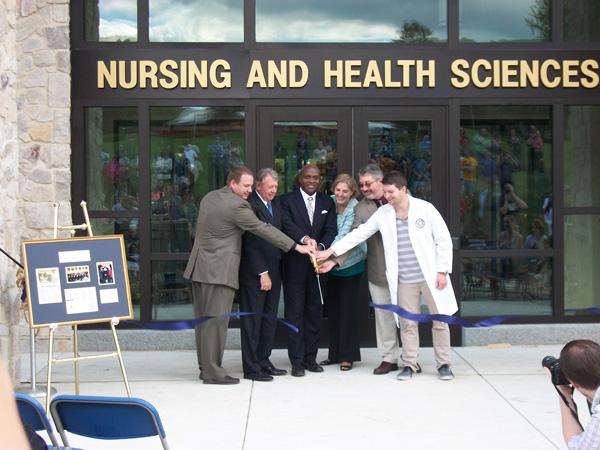 The wait for Pitt-Johnstown's newest addition is over. The Nursing and Health Sciences Building opened Friday afternoon to start homecoming weekend.
Roughly 250 people attended to get a look at the building, which cost roughly $11.8 million, according to UPJ Finance and Administration Vice President Amy Buxbaum.
State Sen. John Wozniak took the podium to thank Pennsylvania taxpayers for their contribution. State officials approved $4 million to be used for the building.
"It will pay its dividends far more than $4 million," he said.
UPJ President Jem Spectar thanked those who helped and those who supported the plan five years ago.
But, he also said the students are the most important aspect.
"A building is nothing without our students," he said, turning to his left to face nursing students lining the walkway between the new building and Owen Library.
"The building is nothing without your dreams, without your aspirations, without the work you are going to do."
Spectar concluded his speech, was joined by five others and grabbed an oversized pair of scissors to cut a ribbon in front of the building.
The doors were opened and attendees filed in.
Most nursing majors made a right upon entry to visit their new clinical lab.
Junior Steve Leipchack was passing through for the first time.
"I call that seat," he said.
Another student in the crowd said the place smelled like a new car.
Spectar said this is the first in a line of new projects.
"We need to upgrade and renovate residential facilities, and next year, we will renovate the (Engineering and Science) building," he said.
"It's an exciting time to be at the university."