Smoothies now offered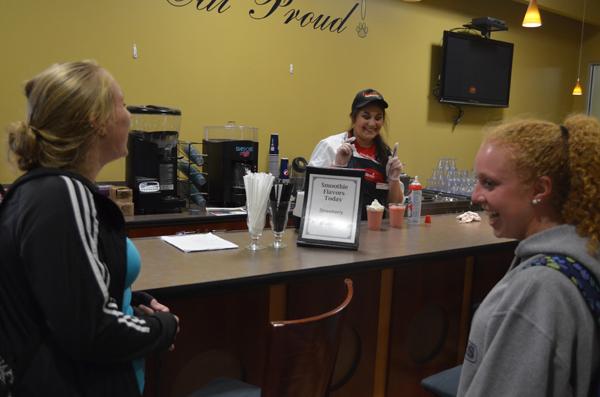 Pitt-Johnstown students don't have to go far when craving a smoothie, as they are now free with cafeteria meals.
Strawberry, banana and mango smoothie flavors are now available at the Pitt-Johnstown Mountain Cat Club during lunch and dinner hours. Strawberry-banana and blueberry smoothies also are available.
Smoothies are served from 11 a.m. to 2 p.m. and 4:30-7 p.m.  Monday-Friday.
According to Sodexo Retail Manager Paula Bloom the idea to offer smoothies was advanced by Sodexo General Manager Victor Costlow, who wanted to add something different.
"We like to change things up to keep it more interesting," Bloom said.
Bloom said that smoothies also are a healthy option for students.
The smoothies are part of student meal plans, so they must eat in the cafeteria in order to get one.
She said that a large number of students were getting smoothies in the beginning but it's now beginning to level off.
Students who are eating in the cafeteria are usually in a hurry, according to Bloom.
"I try to get the person making smoothies to make two different kinds and keep them in the freezer, so students don't have to wait."
For meal-of-the-month Thursday, Bloom said milkshakes are to be served.
Sophomore Ashley Jackson said she found out about the smoothies about a week into the semester.
She said she has gotten smoothies over 10 times and strawberry is her favorite flavor.
Sophomore Sierra Schaub said she didn't know smoothies were free at first.
"I thought I had to pay until about two weeks into the semester," Schaub said, "It's good that they're free. I wouldn't be getting them if they weren't."
Jackson and Schaub said they usually get smoothies after they eat lunch.
Richland High School senior Kali Vann is one of the employees who makes smoothies, during dinner hours.
She said the only thing she would change is the way students act.
"They are very rude and don't care how they treat me," she said.
Vann said she thinks giving UPJ students free smoothies is a good idea.
"On a good day I'd say I make about 100."
She said strawberry and strawberry banana are the most popular flavors.