Candidates compete to charm campus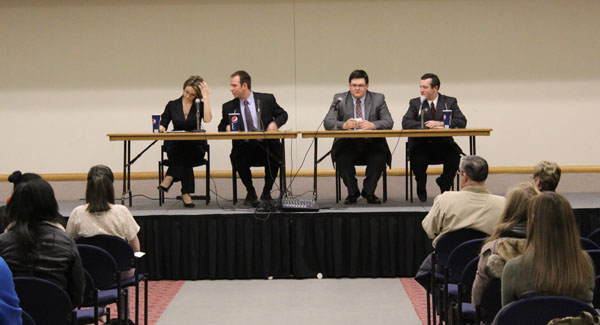 Student government presidential candidates met for a debate March 27 to answer questions asked by moderators and students.
The debate was moderated by the Advocate Editor-In-Chief Brandon Zeris, the Advocate Circulation Director Trevor Monk and student government president Cliff Maloney.
The candidates were Pitt-Johnstown seniors Stephen Torquato, Mark Stephens and Carrie Law, as well as Pitt-Johnstown junior Noam Berns.
In his opening statement, Torquato said he was withdrawing his bid to be student government president.
He said he and his running mate, Jacob Dunning, would not be able to offer the appropriate amount of time that other candidates could.
Torquato said he would be better suited as someone that could advise and help whoever was elected as student government president.
The remaining candidates discussed a number of issues including academic tutoring services and the Pitt-Johnstown alcohol rules reform.
Law said, as president, she would like to create a YouTube channel dedicated to informing students about current campus events. She said campus officials could do more to inform students.
"We have our emergency-alert system for a reason, and we ought to use it.
"That's a big problem that we are finding out (school incidents) from the news," she said, referring to the September shooting at the Richland Township Police Department headquarters, less than a quarter of a mile from the Pitt-Johnstown campus.
Informing students could also cut down on rumors, she said.
Berns, who said he is running his campaign on honesty, disagreed, saying the best communication is word-of-mouth and creating a YouTube channel wouldn't be necessary.
"I think it's sufficient enough to speak to students," he said. "I don't think we need to go to extra measures."
Stephens said he is running his campaign on three issues: student government transparency, allocating money to clubs that need it and increasing supplemental instruction tutoring.
He said he feels that more tutors are needed to better serve students. Berns disagreed.
"Our S.I. tutoring is sufficient and at full force," Berns said.
Law agreed, and said that it's "quality over quantity."
She said there is no point to pay student tutors who are not qualified for the position, and it is more important to focus on tutors with appropriate GPAs and experience.
As far as transparency goes, Law said she wants to motivate student government senators to better communicate with students.
"It helps the senate, as a whole, that we are there to talk to (the students), to expand outreach to people not always comfortable speaking up."
Another issue raised was parking. All three candidates agreed it was an issue that had to be dealt with.
"One of the most sensitive issues on campus is parking," said Berns.
He said he believes that students should be able to park anywhere that is not reserved for faculty. He said he wants parking to be fair for all students.
A new parking lot is to be built outside the new nursing building and could be a solution to the problem, Law said.
"But if it's not working, we need to look into different options."
Stephens said he supports making half of the faculty parking lots available to students because the lots are seldom filled.
The candidates also agreed that the campus alcohol rules need to be reformed.
According to the Pitt-Johnstown website, alcohol rules require all alcoholic beverages possessed by students, age 21 and over, to be registered with a resident director, resident assistant or campus police.
The policy also states that students, age 21 and over, can possess, in one week only, 12 cans of beer or, one six-pack of 16-ounces cans or one 375-mililiter bottle of liquor.
Berns said Pitt-Johnstown claims a real world experience, but the alcohol rules do not support that.
"It doesn't make any sense to me," he said.
He said he will assure that, if students don't want an alcohol policy, he will propose to have it dropped.
As student government president, Law said she will look at the alcohol quantity that legal-aged students can possess and try to increase it.
"I think one of the issues we have is you're registering alcohol to a room, not a person," she said.
If nothing happens, she said she will keep pushing to have the alcohol rulesdropped.
If students say they want the alcohol rules changed, Stephens said he'll support that, but said he feels, if students decide to drink, they should be held responsible for their actions.
"If you're willing to drink, then drink, but, if you get caught, that is your issue," he said.
Stephens also commented that he would ask Richland Township officials to add a sidewalk on the Campus Commons property and the edge of the Pitt-Johnstown property, making a path more accessible to residents.
"I am friends with the local leaders, and I will reach out to them," he said.
Maloney said he believes all three candidates are capable of doing a good job, and he doesn't favor any candidate over another to replace him.
"I will support whoever wins with all my heart," he said. "My goal is to make the organization as wonderful as it can be with a smooth transition of power."
Polls are scheduled to open 10 a.m., Tuesday, and are scheduled to close 10 p.m., today.
Students can cast their votes online through the Pitt-Johnstown Campus Services' website.