Grads shop at bazaar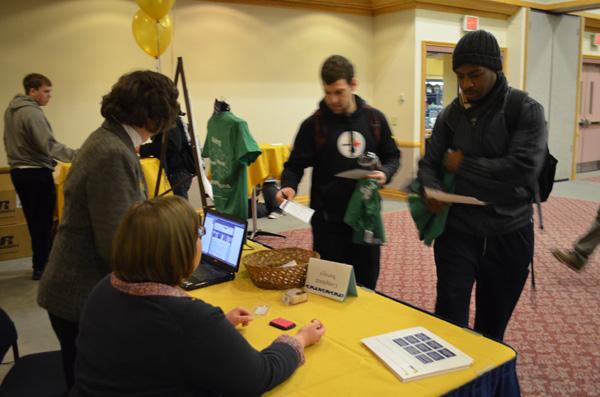 A video of last year's commencement ceremony played on a large screen as students entered the Cambria Room last Tuesday. The 2013 Pitt-Johnstown Graduation Fair was underway.
Staff members sat at tables designated to help students with questions, while photographer Gary Kvorjak was ready to take photos.
Kvorjak said that pictures were taken for free at the fair.
"Proofs are sent via email, and students can order them if they want. Free photos also will be taken at graduation, and those proofs will be available within two to three days of graduation."
Assistant Registrar Lisa Hunter said the fair was a catch all for students to get everything together.
She also said that only certain student groups are invited to attend the commencement ceremony.
"Anyone who graduated August 2012 and December 2012 is invited. Students who are potentially graduating in April or June 2013 are also invited."
She said, though the deadline to apply for graduation was Sept. 15, some students have yet to apply.
Conference Center Event Planner Kimberly Miller said there are a minimum of 300 students who are to walk in the ceremony, but registrations are still being accepted.
She also said each student will receive four invitations for friends and family. Others are invited to watch the ceremony via a screen that is to be set up in the Wellness Center.
Jostens employees Greg Albert and Patty Parkhill were handing out regalia: cap, gowns and tassels. They were also selling graduation announcements and class rings.
Albert said he and Parkhill are at Pitt-Johnstown two days in a row so that students can have a chance to speak to their parents about purchases.
According to Pitt-Johnstown's website, regalia costs $30. All orders are to be received by April 8, or there is to be a $5 late fee.
The website also said that students with a 3.25 GPA or higher are eligible to wear honors cords. The cords are an additional $9.
Albert said that he works with bookstore staff to provide the regalia.
Pitt-Johnstown Bookstore staff member John Ziats said that all gowns are the same fabric, but they can vary in color.
"The gowns for Bachelor degrees are black, but the Associate degree ones are gray. These are souvenir gowns so students get to keep them."
Ziats also said that tassel colors vary by study area. An order form available at the bookstore gives students the color options.
Students Morgan Maloney and Chi Chan were not enthusiastic about the fair.
Maloney said that the lines were too long. Chan said there should a better line system.
Maloney, who is a communication and psychology major, said that she is not ready to graduate.
"It started hitting me really hard this week with job interviews. It's making me physically ill. I don't want to graduate, but I'm hoping this next chapter is as good, or better, than college was."
Chan, a psychology and sociology major, said that he doesn't feel prepared to graduate and that he has procrastinated on certain things.
"I should have planned a lot of stuff ahead of time. I think I'm unconsciously sabotaging myself because I don't want to graduate."