Banned bulb causes blaze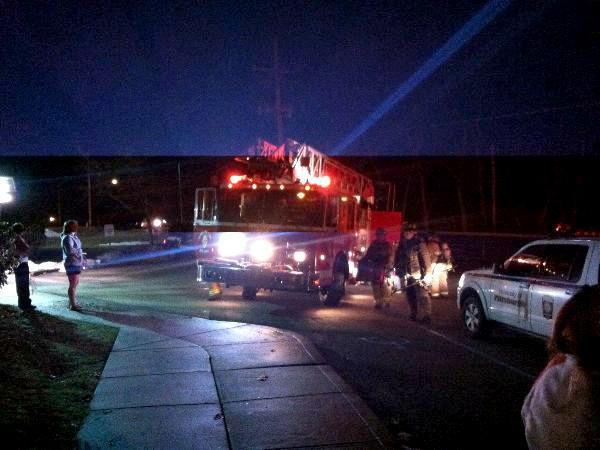 A halogen light bulb burst into flames around midnight Jan. 12 at a College Park Apartment, prompting a resident to extinguish the blaze before it could spread.
UPJ Sophomore Craig Halstead was sleeping in his third floor room, number 307, when he said he heard the fire alarm.
"I thought it was because of popcorn like usual," he said.
As he got dressed to go outside to wait to be admitted back into his room, Halstead said he saw a floor lamp on fire.
"I almost didn't see the lamp," he said. "I got the fire extinguisher and put it out."
Halstead's roommate, Junior Brent Cairns, said he was in the room when Halstead put out the fire.
"I was downstairs, when I heard the fire alarm," Cairns said. "I went upstairs to get my shoes to go outside.
"When I got to our room I saw Craig putting out the fire. (The lamp) looked like an Olympic torch."
Cairns said he, Halstead and their other roommate, Sophomore Alex Wess told their Resident Director that there was a fire, and UPJ Campus Police were called in.
Officers arrived and called the Richland Township Fire Department to assist with ventilation, according to UPJ Police Chief Eric Zangaglia.
Zangaglia said no injuries were reported.
Firefighters spent nearly two hours at the scene and determined that the halogen bulb was responsible for the blaze, Cairns said.
Wess said that he was surprised to learn that a light bulb was the cause, but added that he hasn't seen any other rooms with a similar lamp.
"We may have the only room with a halogen lamp," he said.
UPJ Housing Director Mark Dougherty said that Wess is probably correct because Halogen lamps are not allowed in residence halls.
"We haven't had those for a long time," he said.
Wess said the only reason they had the lamp was because it was the one given to them when they moved in at the start of the fall semester.
Dougherty said that housing staff might have overlooked the halogen lamp when doing inventory checks because they can look similar to another type of permitted lamp.
"Sometimes the incandescent lamps look like the old halogen ones, so it's possible we missed it," he said.