Man finds gobbler glory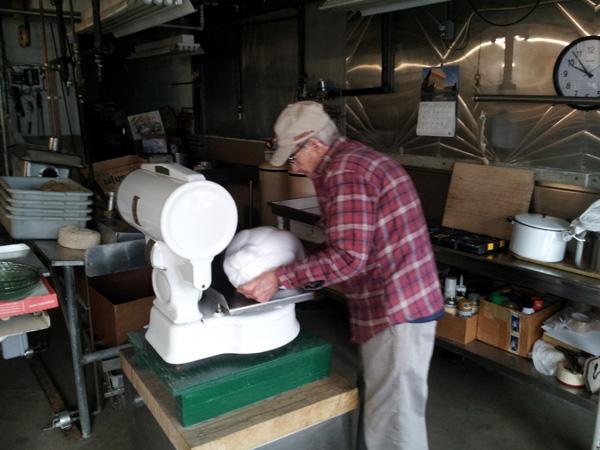 As the holiday season approaches, amateur and professional chefs across the country seem to share a common interest in preparing poultry.
For one Johnstown local area resident however, turkey is more than a meal reserved for Thanksgiving and Christmas. For him, turkey is a way of life, and he's been gobbling it up for more than half a century.
Ex-farmer and turkey enthusiast John Ross said he has been operating the Ross Turkey Farm along Walters Avenue since 1936 – when his father received an unlikely gift.
"Years ago, my uncle won two live turkeys and had no place to put them," Ross said. "We brought them out here and put them in the chicken coup, and they just kept having babies.
"We raised 50 little poults (baby turkeys), and it just kept increasing from there."
Standing in the workshop area of his barn, Ross, remembering the times when his business was at its peak, displayed his old processing tools and said there were years when his farm sold over 10,000 turkeys.
"I used to grow and process 7,000 turkeys a year here on the farm, and sometimes I would buy another two or three thousand already processed," he said, joking that customers would sometimes purchase live birds.
"They'd buy them that way once in awhile, but not after they found out that it's not very easy to kill them yourself."
Ross said his favorite part of raising live birds was hatching the poults.
"We'd put 2,000 in at a time, and we'd have to teach them all to eat. It was a big chore and a lot of work," Ross said, adding that old age has forced him to stop growing live birds.
"I miss it, but I'm 89 years old – I'm just not able," he said. "We quit processing turkeys, and I now buy fresh processed turkeys from Lancaster County and market them."
While this may sound like a sales tactic used by the local grocery store, Ross said his birds are of a higher caliber.
"All turkeys are good, but some are better than others," Ross said, grinning ear to ear. "Where I get my turkeys now, they are grown on their own feed from their own farm, and they aren't hauled around.
"I think that does something to the quality of the bird."
And the quality of Ross's birds is a notion that Sunnehanna Country Club Executive Chef Bob Helsel can testify to.
Helsel said though, Ross's product may not be the least expensive, his business professionalism and prime poultry make his birds an easy choice for his kitchen.
"He's dependable, and he can get anything I ask him for," Helsel said. "He basically has quality control, and he makes sure he gets us good products."
Entering a walk-in freezer filled to the ceiling with boxes of turkeys, some weighing in at over 40 pounds, Ross said his reliability and consistently satisfying products have allowed his business to remain successful throughout the years.
"When you buy a frozen turkey from the store, you don't know how long they have been frozen," he said.
"Last year, over two million pounds of turkey weren't sold – someone could be eating those this year," Ross said, adding that he sells a couple thousand birds a year – every one of them fresh.
Though Ross has found success in his turkey sales, he said the road to gobbler glory has been filled with many obstacles.
He said once, while transporting a load of live birds back from Erie, Pa. He hit a bump upsetting his load and allowing a few birds to escape.
Fighting grief coupled with humor, he said another near catastrophic incident involved his truck catching fire while he was moving a load of processed birds.
"I had a bunch of boxed turkeys, and the fire company came and rescued them."
However, it seems his most notable setback occurred during the 1977 Johnstown Flood. "It tore everything to pieces," Ross said. "Everything was demolished."
Despite hardships and age, Ross said he has a passion for his business and he isn't ready to waddle across the finish line just yet.
"I've had a lot of experiences with turkeys, but I'm still hanging in there," Ross said. "I'll keep it going for a while, I think."