Testing revamp tested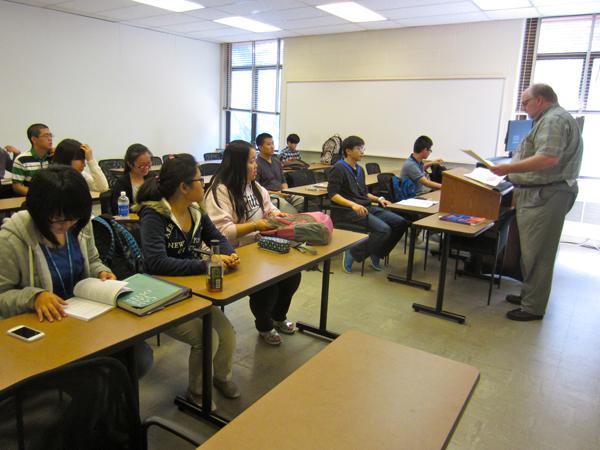 Around 10:50 a.m. most Mondays, Wednesdays and Fridays, when students are walking down Biddle Hall's second floor hallway and pass Biddle 222, a group of Chinese students can be heard chatting while waiting for their composition class.
"Bonjour!" Says French and English Composition instructor David Petrosky, who has been teaching this class since last spring as he smiles and greets his students in French.
"This is how classes usually started," said sophomore Han Niyun, a Chinese sophomore who took this course last spring.
According to Petrosky, he teaches two sessions of English as a Second Language classes, with 16 students in one and 19 students in the other.
Starting this semester, with more international students on campus, a new English placement test for those students was conducted. Students with high scores have the option to take regular class rather than a second language one.
Petrosky said he thought the new placement test is useful for English-proficient students, but also makes it easier for him to help students who need more help.
"I think it is a good option, because my course assumed a certain level proficient, and then certain students whose English is excellent could have gone to a regular course with the American students.
"I found there's big difference in levels, and sometimes class is hard. Students could not understand, or I just spoke to fast, so they wouldn't participate," said Petrosky.
Paul Douglas Newman, UPJ history professor, assistant Academic Affairs Vice President and Student Services director, said the university began to administrating the exam proficiently when administrators noticed that many international students drop intensive English-based classes.
"Our response to it, as the administration, was that students come here and take their Test of English as Foreign Language exam, and if their score is proficient, they should be able to take history class and English literature classes," said Newman.
"But yet, we saw a number of students who are not doing well, or dropping, or withdrawing from those types of classes.
"So faculty members were concerned about that, and they think a portion of international students may be not ready for those intensive language classes."
Newman also said are International Students Advisor Committee was formed last year, with administration, faculty and staff trying to help international students based on some other models nationwide.
Comparing to big campuses like Pitt-Oakland that has more departments and classes, students in a smaller campus are more likely to be placed into a class that's language based.
He also said language and culture backgrounds make some classes difficult for foreign students.
"From my experience, I teach American history where I give lectures, and there's two things going on. I'm speaking English too fast,and  about a topic that people from other countries might have never be exposed to before.
"Students usually come in and drop very quickly, but if they don't, they perform lower. If they take it in spring term instead of the fall, though, we found they are doing better, with three months of immersion in the English world."
Katherine Kinsinger, UPJ Academic Success Center director, said a new proficiency test is a national test called the Michigan Test and, is most used in colleges for English learners.
According to Kinsinger, the assessment is three hours long. Students need to write a one-page writing sample, participating in a listening session and then show a grammar and vocabulary proficiency.
"It is just a one page sample for students to write. We were given guidelines to score them for the ELI (the English Language Institution), how we should be scoring and, how we should be grading." said Kinsinger.
UPJ English faculty from English Department will grade the writing samples. Kinsinger and another academic consular grade the other parts according to the ELI correct answer sheet.
Kinsinger also said, before classes started, students' schedules had been adjusted according to their scores. Students who had qualifying scores were assigned regular composition sessions while others were assigned to second-language sessions.
"We are trying. We are bringing faculty and students, including international students, to help them (international students) to make a transition to Johnstown," said Kinsinger.
Liurui Xingchen, a freshman has been studying in America since her high school senior year and, said she passed the placement test but decided to take second-language considering her GPA for transferring to Pitt-Oakland.
Zhang Peijia, an undeclared freshman, who is taking a regular composition class and is considering to be a philosophy major, said she is doing fine but has to give more effort compared with domestic students.
"I'm the only Chinese student in my class, and I feel I need to put more effort while learning everything because it is not my first language."
Lou Xiao and Yang Xu, both juniors who just transferred from a Chinese university and are taking regular composition classes, said the problem they encountered is not the language, but the lack of culture background.
Newman also said the program will continue to evolve and the university is planning a second-language communication class.
The placement to a second-language communication class is to depend on the new proficiency testing procedure. While this course is to meet general requirements and has been optional for international students who get low scores, the course would be required.
Newman said the committee is to meet again in mid- or late-October and have further discussion on the issue, with the report from professors after mid-term exams.
"I'm going to reach out to all departments and ask if they have any input, and then we are going to meet later in October and find out how well it is going. We are going to process the possibility of having a communication class."
Newman also said the requirement at Pitt-Oakland will be considered.
"We keep in mind that a lot of international students want to relocate to the main campus. We want to make sure any class we require is going to help them do that.
"We are trying to respond to an issue. An intelligent, direct, and targeted way to make the best impact possible for the students, and to use the resources we have wisely.
"Rather than to create a whole program all at once, we are fixing the problems, adding and evaluating as we go." said Newman.