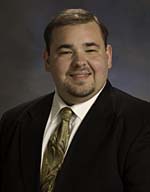 Former Student Conduct and Conflict Resolution Director Jacob Harper resigned from his position on Sept. 6, to pursue employment with Simplicity Corp. of Arlington, Va.
Harper was employed at Pitt-Johnstown for five years, and for four of those years as Conduct and Conflict Resolution director.
Harper is widely acknowledged at Pitt-Johnstown for his role in revamping alcohol rules and making the campus judicial process run more efficiently.
Vice President of Student Affairs Jonathan Wescott said Harper will be missed.
Simplicity Corporation specializes in software development used in higher education, government and business systems. Harper is to work in client relations at the company.
Harper declined to be interviewed.
Wescott said the Pitt-Johnstown Judiciary process uses a software designed by Simplicity, called the Advocate. This software helps organize and deal with judicial cases and clerical judicial affairs.
Simplicity Corporation's website said, "The Advocate System offers everything you need to smoothly run a student conduct office and behavioral-intervention team."
Wescott said the Director of Student Conduct and Conflict Resolution is an internal position to the campus judicial but said he is unsure whether a full-out search will be launched to find a person for it or whether the position will be filled immediately.
"The new director will need to have great rapport and will need to have the ability to be good at delivering bad news."
In the absence of Harper, Wescott said he is standing in as director until the position is filled and plans to fill the position by the beginning of the spring semester.
Wescott said members on the judicial hearing board and administrative hearing officers are reviewing judicial cases, but said he will not be able to review cases in the same manner as Harper.
"Harper had great rapport with students and parents and has left rather large shoes to fill, but we are still holding down the fort."