Healing garden art park created by local artist for mental health awareness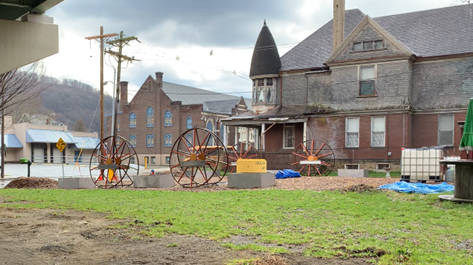 Amid the rising mental health crisis during the COVID-19 pandemic, one woman sought to meet the need in her community for a healing space to help those who may be struggling.
In 2020, Johnstown native Lila Samuels laid the groundwork for a safe, creative space dedicated to mental health and suicide awareness called the Healing Garden Art Park.
Samuels said the idea for the park came to her in a dream. She had a clear picture of what she wanted the space to look like and immediately began designing her vision.
The park, located at 514 Napoleon St. in Johnstown, Pa., was purchased at a tax sale.
The site was once an empty, gravel lot and is now filled with mulch, flower beds and easels. Soon to be installed as the centerpiece of the park is the "Gigi" statue.
The statue, which is the figure of a Black woman holding a lantern reminiscent of the Statue of Liberty, will be in the center of a recycled sewer pipe painted with the park's name.
Samuels is dedicating the statue to her late sister, Gladys "Gigi" Elizabeth Turner, who passed away at age 24.
Having lost multiple family members to suicide, Samuels is no stranger to the struggles of mental illness. "My only way to heal was to be creative," she said, "that's how I hold them dear to my heart."
She believed that the area needed a place where individuals could reach out and have a space where they could heal together.
Samuels plans to install a box full of information and resources to help people find the right care for themselves if they may be grappling with their mental health.
Once the park is complete, Samuels plans to hold art classes, drumming sessions, fundraisers and other activities. The art park will be open year-round, but she plans to hold online art classes during the cold seasons.
Samuels even spoke of the prospect of a Healing Toolbox Workshop to provide people with the coping tools they need to be able to deal with grief.
Throughout the park creation process, Samuels has had the aid of her longtime friend, Roger Grayson.
Grayson has helped significantly in the process of creating the space, and he strongly believes in the message of mental health awareness, he said.
A veteran, he has spent many years advocating for veterans' rights and believes that is a group that suffers significantly from untreated mental trauma.
"Veterans put on a uniform to safeguard the United States of America," he said, "However, many of them come home to homelessness, post-traumatic stress disorder, mental disorders, physical illnesses – and this is not the America we wanna see. It's time for us to come together as a people … and bring back the village, because it does take a village to make America safer and to make our children's lives safer."
Grayson has seen the effects of the pandemic on the mental states of youth firsthand with his own grandchildren.
"All that fear and no outlet … Places like this are definitely needed so kids can come, sit back, chill, paint a picture, sketch, or just socialize," he said.
When Samuels first began planning her designs and collecting materials for the park, she and Grayson tried to experiment with different metals to come up with a unique easel design. They then came up with the idea for the double easel wheels that are now featured in the park.
Without the means to physically build the designs, the pair went to different manufacturing companies and asked for their assistance.
Samuels was shocked at the number of people who wanted to volunteer their time and resources toward the park. "We shared our vision with donators, and they believed in us," she said.
All the scrap metal was donated. Organizations were more than happy to contribute to the cause.
The City of Johnstown provided water, mulch and street signs; Johnstown Housing Authority donated a steel fence post; MJ Daniels Manufacturing constructed the steel easels; Nichols Custom Stainless Manufacturing and Lighting Metals donated stainless steel materials for the raised flower beds, Snyder Environmental Services Inc. donated the steel wheels; and Eber HVAC did the fabrications and casing for the flower beds.
Samuels plans to repurpose the street signs from the city into art installations. They will be reflective and adorned with art from Samuels and other local artists.
The art park has also had group volunteers come from New Day Inc., an after-school and summer kid's program, UPJ's SPARKS, a diversity and inclusion club, and the Greenspace team, dedicated to creating open spaces in Johnstown.
Samuels is working on getting more grants and volunteers to help finish the project, which is expected to officially open sometime this year.
"I just want the communities to know that artists are coming together to create this healing tool," she said, "I'm happy to be a part of it … This is my way of creating a legacy to make other people heal."
To volunteer or donate, Lila Samuels can be reached at:
Mental Health & Suicide Awareness – Healing Garden Art Park and [email protected]