Two films in the works for festivals
Hang on for a minute...we're trying to find some more stories you might like.
A Pitt-Johnstown professor is helping to write and direct two short comedy films for entry into film festivals. 
History professor Paul Newman said, in March, his friend Jason Bolinger brought up an idea that could be a movie. 
Newman said the two were looking for something new to dive into, and had worked on TV commercials in the past, including some still running for a pest company. 
Newman said he cleared the rest of his Friday afternoon to flesh out the idea, that a man living with dolls who slowly goes crazy, became a full script titled "Mr. Babycakes" over a weekend. 
"We've not gone more than two weeks without doing something on this project together," Newman said. 
He said his and Bolinger's wives, who were friends first, also are helping in major ways. Debbie Bolinger works with booms and lighting, while Bethany Newman is in charge of the dolls.
Newman plays the only human in the play, known to his many dolls as Mr. Babycakes. 
After living alone for some time, his dolls one by one begin talking to him, and he enters into relationships with some of them, Newman said.
Three sets of 15 dolls are being used in the film. 
The first set, Newman said, is pristine and tidy. 
The second has been purchased primarily at Goodwill, and some dolls have been purposefully damaged slightly. 
The third set is comprised of dolls bought for their creepy and dark appearances, some from antique shops.
The project is to be filmed in sequence, Newman said, so as his character falls into madness, he is letting his hair and beard grow longer and more unruly until the project is complete.
The 15-minute short is to be submitted to the Johnstown Film Festival next September. 
"The whole film is a metaphor for what's happening in Johnstown. There's the decay and distress of the city behind him, but the house he lives in is beautiful."
Newman said he and Bolinger have spent about $500 on the film, mostly stemming from food and dolls from Goodwill. 
"We're about 40 percent done with filming. We'll be done in May."
Junior Kelsey Chabal plays Love Muffin, the second doll Mr. Babycakes hears talking.
Chabal said she finished recording her voice for the film a week ago. 
"I had an absolute riot morphing my voice into a character so fiendish, yet so charming," she said. 
Chabal said she loved the touch of mystery about the film.
"I think the best humor comes from juxtaposing humanity's dark side with absurdity."
She said, while she can't speak for the parallels with Johnstown, she has seen similar decay in her own hometown after the coal and steel decline. 
"These once bustling cities have crumbling infrastructure and widespread vacancies, and feel the socioeconomic strains of drugs and crime and high populations of working poor."
The second film is "Canfessional," a story of a restroom attendant who is attempting to close for the night. 
"But people keep coming in, and they confess to him, one sin after the other—six of the seven deadly sins," Newman said. 
Newman, who wrote and is directing and starring in the 55-minute film, says the attendant himself is guilty of all seven sins, topped off by a murder of his pastor who confronts him at the end. 
"No one is held accountable for anything—it's pure comedy, and a commentary on judgment," Newman said. 
"That's a line in the film: 'That is the original sin—judgment.'"
This project is to have a much larger budget and cast, and is to be submitted to the Portland, Oregon, Comedy Film Festival and possibly a similar festival in Atlanta.
Newman said he's working on getting rights to two songs to play during the opening and closing credits, which is the brunt of the budget. 
He said he has $2,500 for the film, but is looking to raise more to be able to feed cast members in a rented-out restaurant for an evening of filming. 
He also wants to raise money for costumes, so actors don't have to rely on their own wardrobes to look their parts. 
"Shoes are a big deal in this," he said, since the film is to be shot around toilet stalls. 
He recently bought a pair of snakeskin boots for one character and has a pair of two-toned spectator shoes for the restroom attendant. 
Senior Sam Miller, once Pitt Players vice president, said he hasn't acted in a school production in a few semesters. 
"The time commitment is one read through and two or three filming sessions in February or March," Miller said. He said that was low compared to other acting gigs he's had. 
Miller said he was excited for the opportunity, but that he had only been involved since mid-October, and couldn't say much about the film. 
"It is an extremely well-written film with a deep message conveyed through non-stop comedy."
While he is not Catholic nor familiar with confession, Miller said he agreed with the message.
"People need to hear that everyone has flaws. No one is perfect."
About the Photographer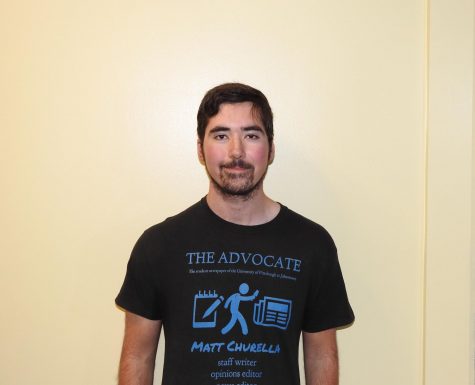 Matt Churella, Editor-in-Chief

Graduated High School: 2016, Cambria Heights High School (Patton)
Year: Senior
Anticipated Graduation Date: April 2021
Major(s)/Minor(s):...