Students finding wetlands' borders
Hang on for a minute...we're trying to find some more stories you might like.
Some Pitt-Johnstown students traveled to Ebensburg Borough on Oct. 4 to visit Dave Lester's intended location for a future watershed nature-education center.
At a reservoir north of Tanner Street, the students enrolled in Mitzy Schaney's Environmental Planning class, worked on wetland-delineation project by walking on muddy ground and passing through thorny bushes to inspect soil samples and identify plants.
Although this is Schaney's second year at Pitt-Johnstown and first time teaching the upper-level class, she said she designed the class to let students complete their work on their own, assisting them when needed.
"I'm not holding their hand; I'm here to assist them," Schaney said. "But, once they're actually working as professional scientists, they're just going to be out the door on their own.
"A wetland delineation is one of the most common things an environmental scientist deals with professionally.
"We do plots in each vegetation community out here to try to basically document all of this.
"They look for signs of a hydric soil, which are usually the gray color. That's the center of their plot," Schaney said.
She said, from there, her students do inventories of woody shrubs, trees and thick vines to document the area's vegetation.
They then must start site assessment, which Schaney said can be completed from within a classroom.
Senior Chance Eutin was no stranger to this wetland reservoir.
He said he has spent several hours of his free time over the past two months clearing out trails in the area as part of his internship at Nathan's Divide, a nonprofit organization that Lester is the founder of.
"Mostly, I've just been working on clearing out some trails," Eutin said. "Also, I'll be making a map once the trails are defined and where they'll be.
"I think it's exciting just to know that people will be able to enjoy this area as much as I have." 
Eutin said he enjoys hiking outside and does not mind doing environmental work.
"I kind of use that time to come out here, walk around, try to get a clear path through the area. 
"It's kind of peaceful actually. (There's) usually interesting encounters with the wildlife," he said, adding that he once had heard a chirping noise while walking on the wetland.
"Right beside me was this raccoon, and I thought maybe it was sick or something. 
"It kind of scared me, but, then I stopped and looked at it, and it was covered in porcupine quills and must've got into a fight or something. It wasn't really moving much. I could tell it was in pain."
About the Contributor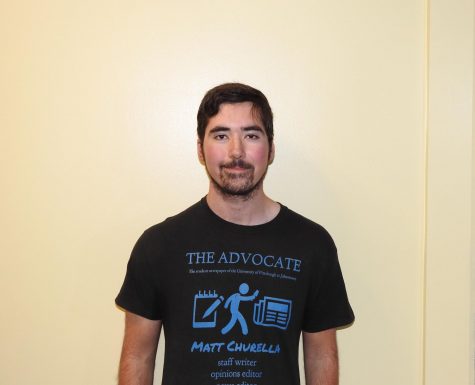 Matt Churella, Editor-in-Chief

Graduated High School: 2016, Cambria Heights High School (Patton)
Year: Senior
Anticipated Graduation Date: April 2021
Major(s)/Minor(s):...