Dinner, walk to aid disease research
Whether community members like to gamble or like to walk, a sclerosis association's Western Pennsylvania Chapter members are planning two events in the next few months to raise money to fight a disease that does not have a cure.
Scott Steinkirchner, who calls the Johnstown area home, helps to organize both events. His mother was diagnosed with and died from Lou Gehrig's disease, also known as amyotrophic lateral sclerosis, in 1997.
The disease progressively attacks a person's nervous system, causing muscles to lock up and, eventually, lungs, so that they lose the ability to breathe.
He said the experience of seeing his mom fight the disease created his passion to help others and their families who are affected.
"We felt that nothing had changed. We wanted to support others," Steinkirchner said.
So, five or six years ago, he organized a yearly dinner and auction to raise more funds to fight the disease.
This year, the event is to be a casino night (with the gaming just for fun) and auction. It is to be held from 6:30 to 9 p.m. April 28 at the Stoystown American Legion.
Attendees can purchase tickets for $25, which includes food, drinks and casino games, online at www.dozy4cure.com.
Steinkirchner said this year the goal is to raise $10,000, and they are still looking for more event sponsors, as well as donated auction items.
All proceeds are to support the sclerosis association's Western Pennsylvania Chapter's work, which has three priorities: patient care, advocacy and research.
Merritt Spier, who is the association chapter executive director, said that, last year, they spent over $1 million on care services to help more than 350 families in the area.
"It is our belief that (the disease) can be a very isolating disease, because of the nature of it—it has no cure. We believe that no family or anyone should have to navigate the whole process, the journey of (the disease), alone," Spier said.
According to the association website, it can cost up to $250,000 per year to care for someone living with the disease.
Spier said chapter members also helped to provide over 20 speech devices, almost 100 wheelchairs and paid for 5,000 respite care hours.
Steinkirchner said that, if his family could have had that type of help years ago, it would have made a big difference.
Donna Boring, who is fighting the disease and attends association events with her team "Donna's Divas," said the events are so special because she feels overwhelming support there.
"Every one of them is fantastic," Boring said.
Spier said she agreed, and added that there is something special about this season's second event, the Johnstown Walk to Defeat ALS.
"The Johnstown community and the people who participate in that walk take ownership of it. They're a very active, close-knit community, and they blow it out of the water every year," Spier said.
Spier said that this walk wins awards every year because it has the highest number of returning walkers in the U.S.
"I should be over my surprise by this point, but I'm not. I'm so amazed at the turnout and dedication each year," Spier said.
This year's walk is to be held July 28 at Pitt-Johnstown.
Steinkirchner said that they are still looking for sponsors for this event, and that the goal is to raise at least $80,000.
In addition, association members give out small colored piggy banks, called Pigs For Change, that people can fill with change and take to the event.
"We represent the whole western half of the state, and there are a lot of patients in the area. We know that we can help.
"(The event) energizes people who are battling (the disease), and it reminds them that they're human," Steinkirchner said.
About the Contributor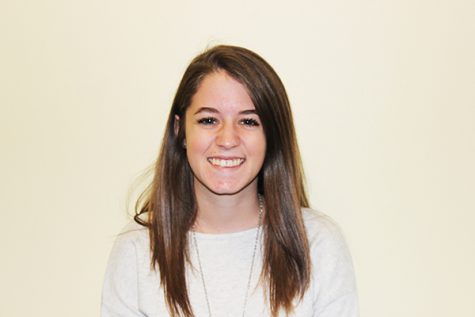 Jane Stueckemann, Managing Editor

2013 Elizabethtown Area High School
Year: Senior
Anticipated Graduation Date: April 2018
Major(s)/Minor(s): Major- Journalism; Minor- Spanish
...