Bridge, canoe teams prepare to win
Concrete doesn't seem like the go-to material from which to build a canoe. Yet, that doesn't seem to matter to some Pitt-Johnstown civil engineering students.
Pitt-Johnstown Concrete Canoe team members attempt to build a functional concrete vessel throughout each school year and compete against other schools' canoes to see whether theirs is the best.
Team Captian Justin Towsey said that the first step to creating the canoe is figuring out its theme.
"This year, we're doing an incline-plane design. It's named ascension," Towsey said.
After making the mold and preparing the design for the canoe and materials, Towsey said over 50 team members got together for build day in January.
"It's a lot to organize. We had some people mixing the concrete and some people measuring mixtures. Everyone had a role," Towsey said.
He said this year's canoe should weigh about 260 pounds and is 19 feet, 1 inch long.
While letting the canoe cure for about a month, Towsey said team members build their display, canoe stands and design presentation.
"It's cool to see how it all comes together; it looks like a big mess at the beginning."
Towsey said he is looking forward to the competition, which is to be held April 7 and 8 at the University of Delaware in Newark, Delaware.
Pitt-Johnstown team members have won the Mid-Atlantic Regional competition eight times in the last 10 years.
At the competition, Towsey said judges check the team's canoe aesthetic and design the first day, and then the team members must conquer race day.
"First, we have to pass a swamp test, which means the canoe needs to fill completely with water and be buoyant enough to come back up," Towsey said.
Then, there are five races: female, male and co-ed sprints and female and male endurance.
Other civil engineering students are building a steel bridge for the same competition weekend.
Steel Bridge team captain Jonah Lambie said that he and his team members cut steel, weld and design the bridge throughout the year. He said his favorite part of being involved is the competition.
"It's fun to get to go around and see all the ideas people came up with," Lambie said.
For the bridge competition, the structure is judged on how light it is, how much it can hold and how much it bends when weight is placed on it.
The Concrete Canoe and Steel Bridge teams are Pitt-Johnstown American Society of Civil Engineers organization's sub-groups.
According to professor and adviser Brian Houston, the organization members also are active on campus, as they organize events such as an employer day, service projects and professional meetings.
Houston said that there's an opportunity for the organization, canoe and bridge team members to learn leadership skills that they don't learn in class.
"They always come out of it and tend to be of more leadership potential. They're fantastic, they really are," Houston said.
Society President Jacob Zembower, who is a civil engineering major, said that his participation has made him a better leader.
"I had to learn how to be in charge and lead people in the correct manner," Zembower said.
About the Contributor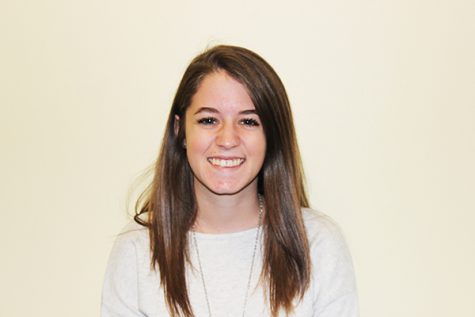 Jane Stueckemann, Managing Editor

2013 Elizabethtown Area High School
Year: Senior
Anticipated Graduation Date: April 2018
Major(s)/Minor(s): Major- Journalism; Minor- Spanish
...