Marvel Comics writer-poet to perform
-March 28 Update-
The Yona Harvey poetry reading has been rescheduled for 7 p.m. April 16 in Whalley Chapel.
-March 21 Update- 
As of March 21, this event has been canceled due to weather.
A poet, who is one of the first black women to write for Marvel Comics of New York City, is to speak at Pitt-Johnstown's Whalley Chapel at 7 p.m. this evening.
Yona Harvey, according to her website, contributed to Marvel Comic's "World of Wakanda" anthology and co-wrote "Black Panther & The Crew."
She is a writing professor at Pitt-Oakland and is to read to students from her poem collection book, "Hemming the Water."
Pitt-Johnstown creative writing professor Eric Schwerer said that this is the free poetry-reading event's 15th anniversary. He organizes the event through a Pitt-Johnstown alumna's endowment.
"For the past three or four years, we've brought in spoken word or performance poets, but Harvey is different.
"Students can benefit from hearing poetry read live. If students have never gone before, it's a special event. It's not stuffy or boring, it's wonderful," Schwerer said.
According to Harvey's website, her book, "Hemming the Water," speaks to the futility of trying to mend or straighten a life that constantly changes.
Harvey is also to be visiting Pitt-Johnstown creative writing instructor Bethany Goch's Poetry Writing class at 3 p.m. in Biddle Room 248 the same day for a question-and-answer seminar.
Goch said Harvey is to talk about crafting poetry: how to read, write and start a poem.
"To bring such accomplished poets here gives students a new perspective on poetry in general. A perspective outside their community is always beneficial to students," Goch said.
She also said that the seminar is open to all writing students who want to ask questions.
"It should be an enlightening experience. What's great about (Harvey)…is that her writing and her book are visually interesting, but there's also a wonderful linguistic and sonic quality to it that is best appreciated when the writer is reading her work aloud," Goch said.
Sammy Yamrose is one of Goch's poetry writing students. She said she is interested in contemporary writers and modern poetry and enjoys seeing poets read on campus.
"What I do know of (Harvey) is that she's at the forefront of what's going on, and I really admire that," Yamrose said.
About the Contributor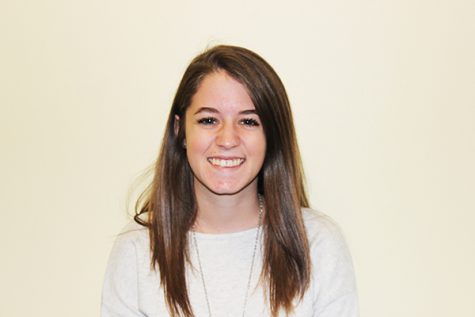 Jane Stueckemann, Managing Editor

2013 Elizabethtown Area High School
Year: Senior
Anticipated Graduation Date: April 2018
Major(s)/Minor(s): Major- Journalism; Minor- Spanish
...