Literary conference to happen again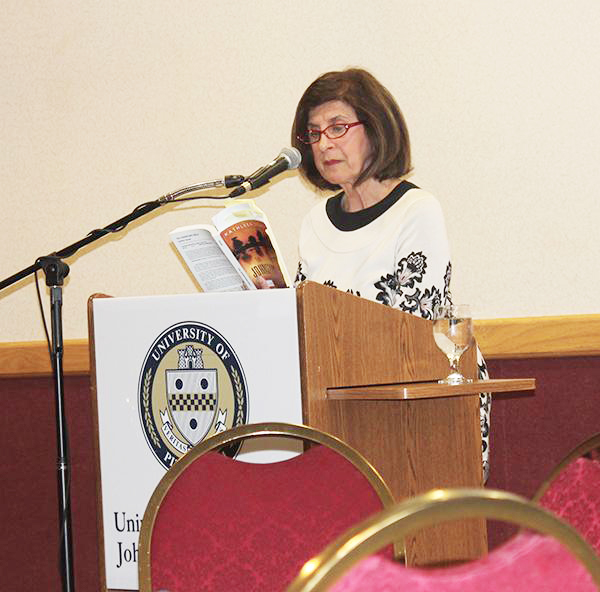 Western Pennsylvania college students and faculty members are to meet March 17 at Pitt-Johnstown to talk about bodies, health and disease.
Ann Rea, a Pitt-Johnstown English literature professor who is organizing the third undergraduate literature conference, said there are to be more than 90 students presenting papers.
"Ideally (their presentations) grow out of a paper they've written for class. We ask them to tweak the paper to mention the human body more and bring out that topic," Rea said.
Rea said this event is held in part with funds from Pitt's provost, who offers funds for events that center around the University's yearly theme.
"This year, the provost's theme is 'Healthy U,' so we came up with ideas about the human body, sexuality and health," Rea said.
She said that anyone who worked on anything that overlaps with literature or other humanities areas is welcome to present.
Student Jeffrey Adams said he may present on the representation of bodies and torture in literary and cultural contexts.
"I enjoy presenting my work and hearing what other people have been working on or are interested in, so I tend to have a lot of fun at academic conferences," Adams said.
Adams also said that hearing his peers' work is important for healthy intellectual and academic growth.
"When one is not exposed to ideas that go beyond their own, it can lead to intellectual stagnancy. Participating in conferences is a great way to ensure that does not happen," Adams said.
Student Meagan Ruefle is to be presenting as well. She said her paper is on sexuality, the patriarchy and William Faulkner's "The Sound and the Fury."
"I like the idea of other people coming to listen to what I have written and thought about for so long, and I enjoy when they ask questions to even further my thinking on the subject," Ruefle said.
Ruefle said she thinks that conferences like these allow attendees to grow as thinkers, writers and speakers.
"I think it says a lot when these students speak, the audience listens, and in the end, people walk out with new beliefs, understanding or even new questions," Ruefle said.
Pitt-Johnstown students aren't the only ones to be presenting, however. Rea said that students from Saint Francis University, Saint Vincent College and Duquesne University are to present.
Rea said, while presenting at conferences is a way to set someone apart from the pack who is applying for graduate school, she was amazed to see how the students took ownership of their work in a different way.
"It makes them take themselves seriously. They're doing what their professors do," Rea said.
The conference's keynote speaker is to be Steven Sherrill, an English professor at Penn State-Altoona. Sherrill said his talk is to address creativity.
"Why (creativity) is important, necessary even. And how to find and nurture the creative forces inside each of us," Sherrill said.
He said that meeting and being with like-minded people is so rewarding.
Rea said proposals from students interested in presenting are due Friday. Conference presentations are to take place all day in the Cambria Room and Blackington Hall.