Poetry event to take place Thursday
On Thursday, nationally performing poets and student poets are to take the same stage for the Black Action Society's Poetry Slam event.
"Slam poetry is a powerful way to present poetry and art. It's all about emotion. You can relate to it and hear it in their voices. It can be a life-changing moment to open someone's eyes to that," Santana Lardo, society vice president, said.
Lardo said the club has arranged for Rudy Francisco of San Diego and Jasmine Mans of Newark, New Jersey, to perform, as well as former Pitt-Johnstown student Naijaa Michel.
According to his website, Francisco uses personal narratives to discuss the politics of race, class and religion. Mans, according to her website, is an artist who expresses herself by speaking out on behalf of others.
Michel, who attended Pitt-Johnstown from 2014-16 and transferred to East Stroudsburg University, said she pours all of her emotions into her poems.
"I don't follow a theme on purpose, but I have found that a lot of my work is along the lines of mental health and mental-health awareness," Michel said.
Also, she said she is excited to perform in front of Francisco and Mans.
"I think both are extremely amazing poets, and this is a very surreal feeling for me," Michel said.
Poet Tia Indigo was to perform also, but Lardo said that she backed out last week because she wasn't comfortable with the paperwork and contract required by administrators.
Lardo said the club budgeted several thousand dollars to bring the poets to campus, which included their transportation and lodging while in town.
"We want to show people who might not know about slam poetry what it's all about," Lardo said.
In addition to the professional poets, Lardo said society members have allotted 45 minutes for student performers.
"They can perform slam poetry, regular poetry and even poetry from their favorite authors.
"We're not asking to see (their poetry) beforehand because we don't want to censor it. Part of poetry is expressing your true feelings," Lardo said.
Freshman Minnie Jones said she is planning to perform a poem she wrote in high school called "Dark Eyes."
"I want people to react to it the way I'm intending them to," Jones said.
Freshman Henri Maindidze said he is to perform a piece, set up like a song, about what love is.
"It has a song's rhythm to it, but it still has the message of slam poetry," Maindidze said.
Maindidze said that he isn't nervous to perform.
"Slam poetry and music are both ways to express yourself and show who you are. If you have something to say, say it. If it's on your heart, it's on your heart," Maindidze said.
The free event is to be held from 7 to 10 p.m. in the Cambria room. This is the second year the society has arranged a poetry slam.
Mariah Butchko, society president, said that the event last year went well.
"We had more participation than expected. Because of the success and positivity around it, we have decided that it should be an annual event," Butchko said.
About the Writer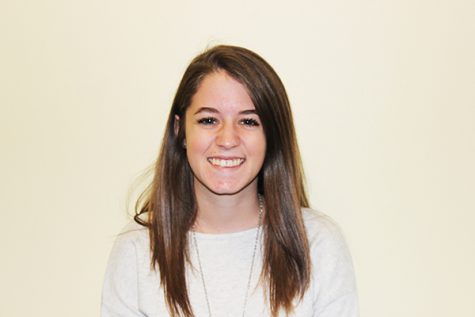 Jane Stueckemann, Managing Editor

2013 Elizabethtown Area High School
Year: Senior
Anticipated Graduation Date: April 2018
Major(s)/Minor(s): Major- Journalism; Minor- Spanish
...