Play today to highlight varied voices
Valentine's Day is just a week away, but there's another V-word some people may be thinking about this week.
Pitt-Johnstown faculty and students, in addition to community members, are to perform the play "The Vagina Monologues" today and tomorrow to combat violence against women and girls.
Housing Director Sherri Rae is producing the play on campus with the Johnstown-based group Community Connection Team.
Rae said group members have held events like this in the community for the past few years.
"This show is 20 years old now, and, while many things have changed regarding sexual assault and harassment, many things have yet to change. Sharing the stories in this piece gives voice to many experiences for women of all walks of life," Rae said.
"The Vagina Monologues," written by playwright Eve Ensler, explores sexual experiences, reproduction and body image with women of different ages, races and sexualities.
"While some of the pieces are sad, some funny, and some will make people angry—the overall message is hope with action. There is hope that things can change, but we must all take action to be that change," Rae said.
She also said the usually all-women show is to end with a piece titled 'The Man's Prayer,' which is to be read by men, so that their voices can be reflected in the play as a more inclusive call-to-action.
The show is to be at 7 p.m. this Wednesday and Thursday in the Cambria Room. Pitt-Johnstown students with ID may purchase tickets for $3 at the door. Other students are to pay $5. Community members may purchase tickets for $15.
The event's proceeds are to support a trauma-sensitive yoga program for survivors of sexual assault and domestic violence.
Rachel Allen teaches the yoga classes at BottleWorks Ethnic Arts Center at 411 Third Ave. in Johnstown.
"I wish I could convey how much it means for people to have a space of acceptance and a space where they know they're not alone and they won't be judged," Allen said.
Allen said, that though the class is free for attendees, groups like the Community Connection Team raise money to supply survivors with yoga mats and workout clothes.
"A lot of the people who come in are under-resourced in terms of being able to pay. I'm personally passionate that tools of wellness need to be available to everyone. Fundraising is helpful for us to be able to offer those services," Allen said.
Allen said that she does not advertise the yoga class time or day because there are some attendees who are in active domestic violence situations.
The money raised through the "The Vagina Monologues" is managed through the Community Foundation for the Alleghenies in Johnstown.
Katrina Perkosky, foundation development associate, said that it is important to give people the ability to get in touch with their own bodies through classes like this.
"For these survivors, their body is reminder of the trauma they went through, so they need to be able to work through that so they feel they have agency over their own bodies," Perkosky said.
She said that a full month of classes can cost $300-$500, so the support from fundraisers like this play are helpful.
Perkosky also said she thinks this play is important for students to see.
"There has been so much news surrounding sexual assault on college campuses, and, every day, there are more survivors coming forward. It's really of the moment to be able to show the monologues on a college campus.
"Some of it is shocking, some of it makes you uncomfortable, but they are all stories that people need to hear.
"I hope students are open to the myriad of feelings that these pieces invoke," Perkosky said.
Pitt-Johnstown senior Josh Calandrella said he saw a performance of "The Vagina Monologues" three years ago.
"I remember it being really interesting, and a second viewing would help me because a lot of time has passed.
"It's important to have the topics presented to you in a different interpretation; one of the women's stories will strike you in a different way," Calandrella said.
About the Writer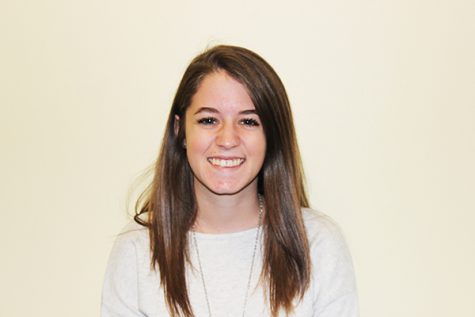 Jane Stueckemann, Managing Editor

2013 Elizabethtown Area High School
Year: Senior
Anticipated Graduation Date: April 2018
Major(s)/Minor(s): Major- Journalism; Minor- Spanish
...