Derby women find identity, family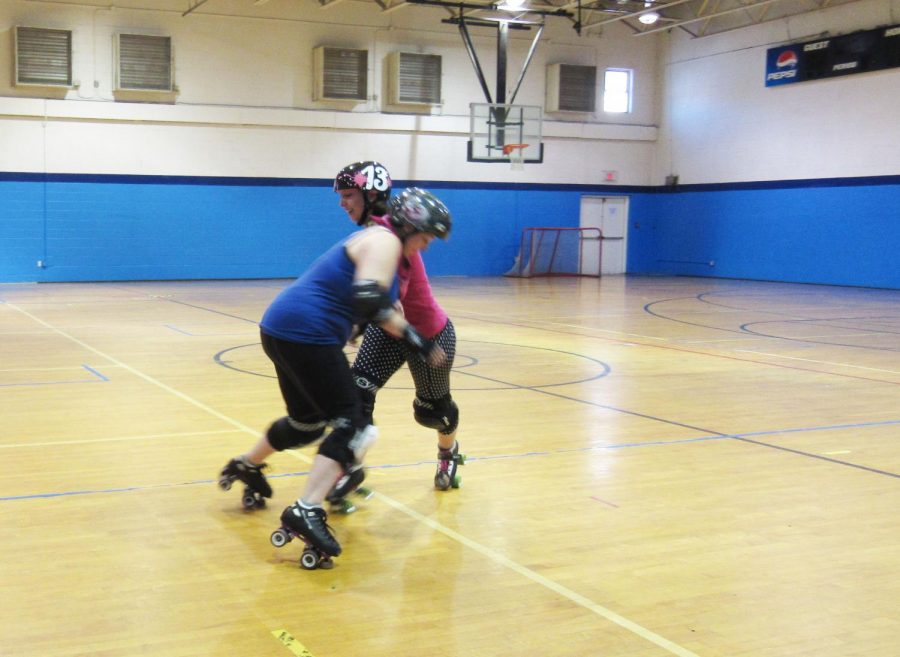 On a Sunday afternoon in October, a few women meet in an exercise room at the Windber Community Building and lace up roller skates.
These women are ready to practice roller derby skills. They don knee pads, wrist pads and helmets as they make their way to the gym for their second two-hour practice of the week.
They skate laps around an oval track, which is outlined on the floor with tape, to warm up. The gym is filled with the sound of their roller skate wheels slapping the wooden floor.
The Johnstown Roller Girls league players, known as the Flood City Sirens, are training new players in basic skills in this rented practice space.
Their coach, Barb Mitchell, of Johnstown, who goes by Barbie O'Havoc on the track, said that the new players-in-training are called "fresh meat."
"We teach our fresh meat from October to December. That gives them a blank slate so they aren't intimidated by our veterans. We bring everyone back in January as an entire team to train, practice strategies and work on gameplay," Mitchell said.
Roller derby is an amateur yet international sport. During games, two teams face off for two 30-minute periods. The periods are divided into two-minute sections, called jams, in which five players from each team battle to score points.
The players race around the track as a designated "jammer" from each team, wearing a star cover on her helmet, scores points by passing the other team's members. At the same time, the "blockers" from each team try to either block the other team's jammer from scoring points or help their jammer score points.
Mitchell said the women play about six games per year—one game per month from March to September.
She said that the league was founded in 2013, but that the women didn't play their first game until the following year.
In this league, every player must pass two skill-assessment tests. The first is a basic skills test, like knowing how to fall down correctly and being able to skate around the track 27 times in less than five minutes.
The second testing level assesses players on gameplay strategies: how to take a hit and how to score points.
"Everyone is so afraid to take a hit for the first time, and when it actually happens and somebody just lays you out and you go sliding on your kneepads, it's really exhilarating. It's like this tiny little roller coaster ride," Mitchell said.
Mitchell said the league uses Women's Flat Track Derby Association, in Austin, Texas, skill assessment and gameplay guidelines. There are almost 400 leagues worldwide that follow this association's guidelines.
However, modern roller derby, void of scripted fights and falls, began in the early 2000s in Austin when teams transitioned to using a flat track instead of a banked one.
"That's when it really took off because it opened accessibility. You didn't need a $20,000 banked track just to skate anymore," Mitchell said.
Playing roller derby still comes at a price, though. The responsibility to purchase gear, rent a practice and gameplay space and advertise for the league falls mostly on the players.
"We have $30 dues every month. It's not the end of the world for most people, but it's not something most people can do on minimum wage. It's a privilege to be able to play roller derby," Mitchell said.
Even though the sport can still include theatrical elements such as costumes, face paint and nicknames, roller derby league players seem to value athleticism and civility in their gameplay.
For example, Amylynn Delgado founded the Warrin' Wrecking Dolls league in Russell, Warren County. Delgado said that she holds her skaters to a high standard of physical fitness, as well as professionalism and sportsmanship.
"In addition to physical skills testing requirements, our members are required to pass a rules test as well as a strategy test. If a skater does not pass their tests or pay their dues, they are considered ineligible to play in a game," Delgado said.
She also said their league's practices are intense and that she pushes her players to work through their mental and physical training barriers.
If they work hard enough, it also seems that any type of woman can join a roller derby team. Mitchell said that skates are a great equalizer, as long as players are willing to deal with some bruises from hits and falls.
"I would say athleticism is really not a requirement. We have a diverse range of players. We have plus-size women, we have very small women. You have to be willing to keep trying and building on new things and pushing yourself.
"A committed, dedicated attitude beats lazy talent," Mitchell said.
Though this may be the case, Megan Wolfe of Hanover, York County, who plays in the Hanover Black Rose Rollers league, said that players are often misrepresented as tough just because they play roller derby.
"I would not describe myself as tough. I'm a physics teacher and a nerd who plays video games. People in roller derby have that tough reputation, but we have three elementary school teachers who skate with us, and we have accountants and business people," Wolfe said.
Another unique roller derby trait—and another equalizer, regardless of players' real life professions— is that most players adopt pseudonyms on the track. Wolfe said that some players, like her, use their nicknames as an alter-ego.
"When I was a little kid, people would howl at me because my last name is Wolfe. I'm a jammer, so when I jam, people in the crowd howl when I go out. It's so miniscule, but it's very empowering when I hear the crowd howling when I'm getting ready to play," Wolfe said.
That empowering trait seems to be consistent across many roller derby leagues.
Delgado, of the Warrin' Wrecking Dolls in Russell, said that in her league, players are all about supporting each other.
"We celebrated marriages, childbirths and new houses. We have also been there through deaths, heartache, accidents and injuries. Just knowing someone cares is often all that is needed for someone to get back on their feet again," Delgado said.
Leslie Hull, who is from Camp Hill, Cumberland County, and plays with the Harrisburg Area Roller Derby league, said she agreed that roller derby can help players overcome difficult life events.
She said that she was getting out of an abusive relationship when she started roller derby.
"I was really down and not as confident in myself as I could be. Roller derby helped me get back on my feet because the atmosphere was so welcoming.
"It was something I could do for myself and show the power that my body has and what it can do in the aftermath of my abusive relationship," Hull said.
About the Photographer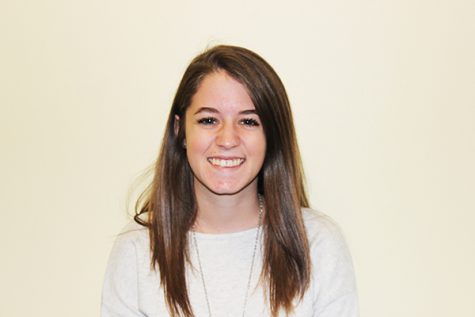 Jane Stueckemann, Managing Editor

2013 Elizabethtown Area High School
Year: Senior
Anticipated Graduation Date: April 2018
Major(s)/Minor(s): Major- Journalism; Minor- Spanish
...