World pageant winner is on campus
One Pitt-Johnstown staff member leads a separate life as a Ms. Universal pageant winner.
Kristina Marinkovich, who works as the international student services coordinator, was crowned Sept. 8 as this year's Ms. Universal at a London pageant.
Marinkovich said she competed in pageants when she was in high school, but then took a break when she went to college.
She got back into it a few years ago when she tried to win Miss Pennsylvania International three times but never succeeded.
"Since I felt strongly about my platform, I decided to look for pageants that aligned better with my platform," Marinkovich said.
She said her platform, HEALTHY, is all about leading a healthy lifestyle.
When Marinkovich found the community-service-based Universal Pageant System, she said she decided to go for it.
She competed for and won Ms. USA Universal last year, which gave her the option to compete internationally in London this year for a chance to win the ultimate crown, Ms. Universal.
The competition consisted of a five-minute interview with three judges, a fitness portion and a gown portion. The last portion is an on-stage question that contestants must answer.
"The interview is my favorite, because it allows the judges to get to know you and your platform, and what you want to do with the title," Marinkovich said.
Not only did Marinkovich win the overall title, she also won the interview and gown portions.
That's no small feat, either, because Marinkovich said her gown didn't arrive at her hotel until the day before the pageant.
"I had a backup dress just in case, but I had to wear my dress during the competition with safety pins down the side," Marinkovich said.
She said she should have been a lot more worried about it, but was at ease throughout the process.
"(When I won), I was excited, and a bit relieved," Marinkovich said. "I was going to do more whether I had a crown and a title or not, but (the crown) comes with prestige and gives me more opportunities. We're not just pretty faces."
Marinkovich said she has published a cookbook called "HEALTHY Eats," and she said that all the proceeds go to purchasing stationary bikes that are to be donated to local schools, such as Greater Johnstown High School.
"(The bikes are) for Read and Ride programs to try to get kids to enjoy fitness and routine at an early age, so they can grow up and have a healthy lifestyle," she said.
Marinkovich said she is also working with Lifeline Humanitarian Organization, based in Chicago, to provide for orphans in Serbia.
"My dad is Serbian, so I'm half-Serbian and very in-touch with those roots," she said.
Marinkovich also is involved in several community organizations. She is on the board of Johnstown's Young Women's Christian Association, is a chairperson of Cambria-Somerset's Outstanding Young Woman scholarship program and teaches color guard at Conemaugh Township High School.
"Time-management is so important. You have to have it to handle everything. A healthy lifestyle helps with that," Marinkovich said.
Pitt-Johnstown housing director Sherri Rae said she has known Marinkovich for at least four years. Rae also is on the board of the Outstanding Young Woman scholarship program with her.
"Because she's involved in so much, she's able to connect students with opportunities, especially international students when they're looking for events or projects to do. She's a wealth of knowledge for them," Rae said.
Rae said she thinks Marinkovich won the Ms. Universal title because the type of person that she is.
"She's outgoing, she's a go-getter and she is one to jump in with both feet," Rae said.
About the Photographer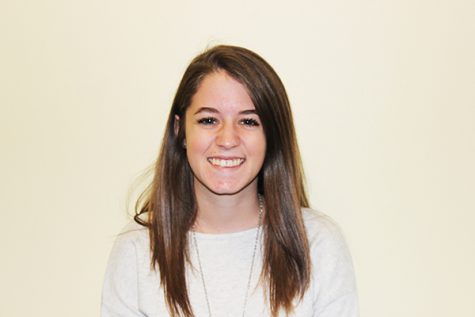 Jane Stueckemann, Managing Editor

2013 Elizabethtown Area High School
Year: Senior
Anticipated Graduation Date: April 2018
Major(s)/Minor(s): Major- Journalism; Minor- Spanish
...