Inmates give back, raise service dogs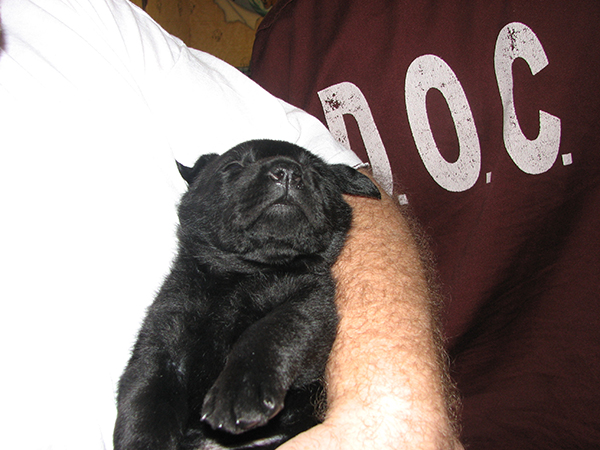 When he's not working, Clifford is a laid-back, 7-year-old yellow Labrador retriever. When he is working, he's a fully trained service dog for Lebanon, Pa., resident Tina Harris.
Harris has an auto-immune disease that affects her central nervous system, so Clifford is her balance dog.
"I have Clifford's body weight to stop me from falling," Harris said.
Clifford is sponsored by Canine Partners for Life, of Cochranville, Pa., an organization that places service dogs with disabled people.
Clifford helps Harris make her bed, pay cashiers and pick up items that she dropped.
Before he developed those skills, Clifford learned his basic obedience skills in a prison.
For the first year of his life, Clifford was raised by inmates at the State Correctional Institution- Smithfield, Huntingdon, Pa., as part of the partners' puppy-raising prison program.
The partners' executive director and founder Darlene Sullivan said that, when they had a large increase in puppies and couldn't find enough volunteer trainers for the first year of their dogs' lives, they had to think creatively.
That is how the puppy-raising prison program was started 17 years ago.
"The inmates are fantastic puppy-raisers," Sullivan said.
Harris said she agreed.
"I've been up to SCI-Smithfield several times to see the guys. As soon as we pull into the parking lot, Clifford knows where we are. He remembers the guys. They do a fabulous job with the dogs," she said.
Locally, inmates at SCI-Somerset, an all-male medium-security prison in Somerset, Pa., participate in the program.
The puppies and their inmate trainers at Somerset are designated to one unit in the prison complex. Melanie Pyle manages that unit.
To be part of the program, inmates need to meet stringent criteria, including filling out a formal application, writing an essay and completing an interview.
Inmates and staff at SCI-Laurel Highlands, an all-male minimum-security prison in Somerset, Pa., also participate in the program.
Ralph DiBridge is the unit manager where the dogs live with the inmates.
"After going through the training, the inmates have to make reports and take notes about everything about the dog. Each dog has a book; it's like a diary," DiBridge said.
In the year the dogs in the prison program spend with the inmates, they learn basic obedience and social skills.
However, the inmates seem to learn from the dogs, too.
Pyle said her favorite part of the program is to see the transformation in the inmates who raise the dogs.
"The responsibility of knowing they are giving back to the world is so beneficial to many of them. One particular inmate went from barely talking to anyone, and then he just bloomed. He became a leader of the group, and even gave a speech about the impact of the program," Pyle said.
Chris, an inmate at Laurel Highlands, has been with the program since it began there last January.
The inmate's last name could not be disclosed as a condition for an interview established by prison employee Elizabeth Nightingale for what she said were security reasons.
He said that raising a service dog is the most selfless thing he's done.
"I spent my life being selfish and in the constant pursuit of self-gratification. I'm making a little bit of amends.
"I've been given the responsibility to take care of these dogs, and to see how caring I can be to another living creature. It's nice to know I'm still a human being. I still have emotions and empathy," Chris said.
Chris said one day he surprised himself with how much he cared for his dog.
"We were in the play yard outside, and it had snowed a few days earlier. She (the dog) was running toward me and then she yipped like she hurt her paw. I started crying, thinking that she got hurt and it was my fault," he said.
Chris said he plans to volunteer with the partners when he is released from prison.
Pyle said this program has changed the camp as a whole.
"It's a completely different atmosphere. It's almost like the inmates have taken the dogs on as mascots," Pyle said.
Sullivan said that it can be difficult for the inmates when it is time for the puppies to leave, but that the program is a great opportunity for them.
"It's very traumatic for the inmates to see the puppies leave, but, if you ask any one of them why they do it, it's that they are aware that they have harmed society and they want to give back," she said.