Event reveals virtual reality benefits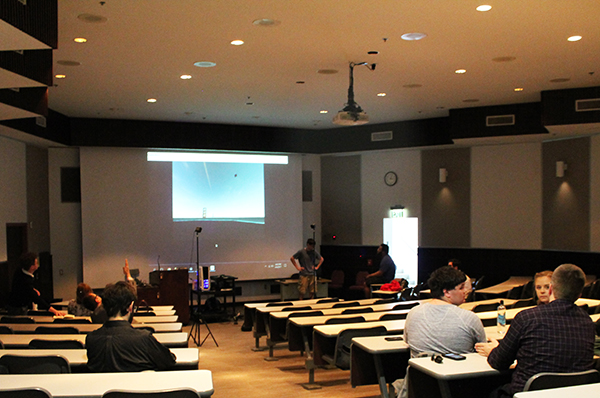 While students and faculty were preparing for the semester's end, a few attended a seminar last week in Blackington Hall, in which virtual reality's educational benefits were discussed.
Only four professors and six students attended the seminar organized by English literature professor Jeremy Justus and two seniors who operate the virtual reality equipment in the Zone.
Justus said the seminar's purpose was to expose faculty and students to the specific ways virtual reality could be used in the classroom.
"I think we're pretty lucky to have this technology.
"Personally, I think that as faculty become more familiar and comfortable (with virtual reality), then they'll teach their students to become more comfortable with it as well," Justus said.
Justus said he took his Digital Humanities students to the Zone so they could use the virtual reality equipment to understand embodiment's significance.
"Students are curious at first.
"It takes them a while to get comfortable," Justus said.
Thomas Plutt spoke to the students and professors for about an hour while Erik Walters used the virtual reality headset.
"Virtual reality allows you to do things that you normally couldn't do on your own," Plutt said.
Plutt first introduced 3D Organon VR Anatomy, an app showing over 4,000 different parts of human anatomy including nerves, bones and tissues.
Plutt said the app gives a description of each part and its function.
"You can individually pick things apart and set them aside.
"We figured this technology is more useful for nursing and biology students," Plutt said.
Plutt said virtual reality could also benefit Geography students and students who wish to study abroad, with the Google Earth VR app.
"He (Walters) can scale himself down and view major parts of the globe," Plutt said.
Plutt said students can change between day and night while they are using the app.
He also said the app does not have a search function, but students would be able to find and explore different world locations by using the zoom feature.
Pitt-Johnstown's campus was found using the app to demonstrate the zoom feature.
Plutt said virtual reality has psychological benefits for students as well.
He said it gives them an exposure to phobias, such as acrophobia, and it gives students a chance to overcome their fear.
Plutt then discussed the many ways students can use virtual reality for entertainment.
Using an app called Black Hat Cooperative, one student can use the virtual reality headset to explore the game's map and collect treasures, while another student watches the monitor and uses the map to guide the player away from nearby enemies that he or she may not see coming toward them.
A different app called Tilt Brush, allows students to draw 2-D images in a 3-D universe.
Another app, Lifelique VR Museum, allows students to visit Stonehenge, look at different layers of the Earth and pet a stegosaurus.
"These are experiences you normally wouldn't be able to get," Plutt said.
Plutt said these apps are now offered at the Zone. However, new apps are being considered for purchase to further enhance a student's Pitt-Johnstown experience.
Plutt said one app, Autodesk VRED, would help Engineering students.
"It allows students to view drawings in 3-D space," Plutt said.
Plutt said students would be able to pick out flaws before the design goes to a shop to be made.
"It basically saves you time and money," Plutt said.
One professor who said he would consider using virtual reality for his class is history professor Paul Newman.
"I'd use it for my Public History class for sure, to show students different varieties of exhibiting the past.
"But also for exhibitions of art history as well," Newman said.
Newman said there are digital museums that are constructed a certain way to give people a specific experience.
"To be able to visit these constructed real spaces without having to travel would be incredibly helpful," Newman said.
Newman said virtual reality's educational benefits are great for students.
"Anything that brings the world closer to you is a positive educational development," Newman said.
One of the main concerns about virtual reality discussed was whether committing violent acts in a virtual game could change a student's behavior in real life.
Newman said he is not worried about virtual violence.
However, Newman said he is worried about censorship in games, books and other media.
"I don't think those things make us run out and act in a violent way.
"When my grandfather was the same age as I was when I played my first video game, he was taken to a public hanging and saw a man killed."