Baseball team members suffering injuries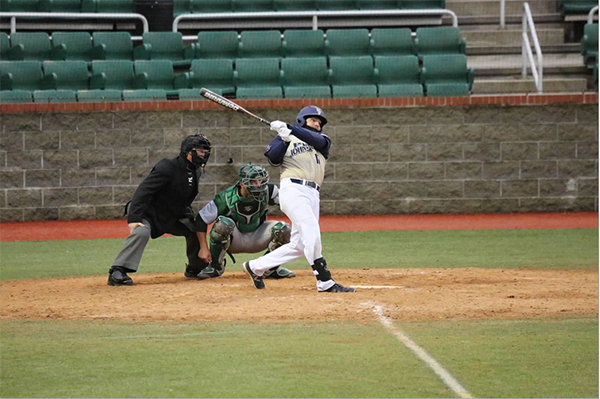 Pitt-Johnstown's baseball team has taken a hit in its roster, figuratively and literally.
Out of the 36 players on their roster, six are injured: all starters and key players.
Some of the injured players include junior infielder Luke Williams, senior pitcher Tyler Black and sophomore pitcher and infielder Devon Walker.
More injured players include junior pitcher Camden Hess, junior outfielder Tanner Cook and senior outfielder Dillon Boyer.
Williams is out for the rest of the season due to injury; Black has missed 16 games; and Walker is out for the rest of the season.
Hess has missed 20 games so far. Cook and Boyer have missed just under 10 games.
One more injured is sophomore catcher Dylan Conrad, who broke his jaw last week.
According to Conrad, what caused his injury was when he had to block a low pitch in the dirt.
"My mask came off and it (the ball) fractured my jaw," said Conrad.
"I talked with my doctor about it, and I will be able to play through it."
Even though Conrad will be able to play through his injury, most of the injured players will not be able to.
According to Conrad, the pitchers have been hurt almost all year, off and on. "We lost some key position players throughout the year as well," said Conrad.
"Throughout the year, we have had a good chunk get hurt, players and pitchers, where some have returned and some have not."
To prevent injuries, Conrad said that the team does preventative work.
"We do the work for our workouts in the offseason," said Conrad.
"The injuries we have had just happen; that is baseball."
Another injured players Boyer, said he was injured with a high ankle sprain that kept him out eight games.
"I am playing again, but I was doing rehab exercises with the trainers and having my ankle taped before every game and practice," said Boyer.
With all the bad luck that has hit the Mountain Cats, Boyer said that the players have responded well.
"We feel that we have good depth, and if one guy goes down, we expect another to step in and maintain that level of play," said Boyer.
With the different injuries that have affected each players, arm injuries have been the biggest problem, according to Walker.
Walker said he had to have elbow surgery because of an avulsion fracture to his elbow.
"Every injured player has had a major role in how our team plays," said Walker.
"We have to turn to whoever is next in line, and they have done their best in order to make the team win," said Walker.
"The people stepping up have done well, but it will be exciting when we can get our team back and playing the way we did when we beat Millersville ."