Spanish films' twists aid discussion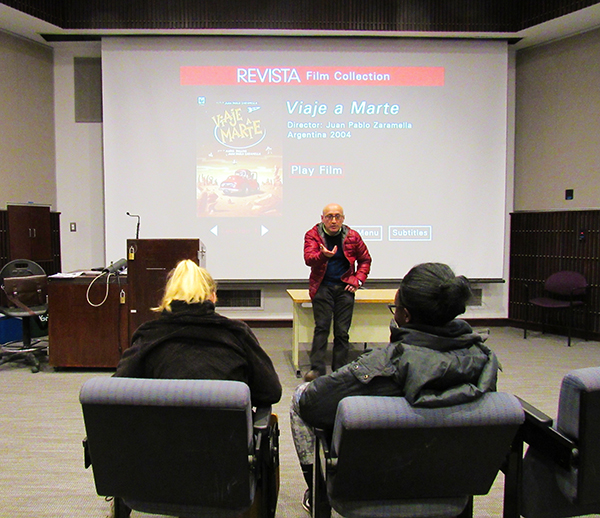 Hang on for a minute...we're trying to find some more stories you might like.
Last Thursday evening, sounds of the Spanish language rang out from Blackington Hall room 131.
Nine students attended the first session of an Hispanic Independent Short Film Festival.
An animated film Viaje a Marte (A Trip to Mars) was shown first, followed by a drama titled Diez Minutos (Ten Minutes).
Senior Molly Dupin said she liked Viaje a Marte better. The film is a clay-mation tale about a boy's dream to go to Mars.
"It was more dramatic than I expected, and I love that kind of stop-motion movie," she said.
Vista Higher Learning, an organization based in Boston, aided associate professor Alvaro Bernal in bringing the film festival to life.
"(Vista) has a great selection of awarded short and non-commercial movies from Spain and several Latin American countries," Bernal said.
A total of five short films are to be shown between the session on Thursday night and the upcoming April 13 and 20 sessions. All films are to have English subtitles.
Senior Erica Enarusai, Spanish Club president, helped to publicize the event. She said she hopes the festival is a success.
"A lot of students have the misconception that you have to be a Spanish-speaker to watch a movie like this, but that's not true," Enarusai said.
She also said that it is important for students to learn about a culture other than their own.
"A lot of problems come from when people only have one perspective. It's important for people to see something from a different perspective.
"Films are an easy way to do that because anyone can sit down and watch a movie," Enarusai said.
Bernal said he agrees.
"Our students need to be open to other cultures and realities. Some of these films will leave viewers with a message of hope and global – and diversity – awareness. In general, they are short films that make people think," he said.
Adjunct instructor Paulette Parlock also helped to organize the event.
She said that there's always a dramatic twist at the end of the films.
"It's there to bolster conversation on why it ended that way."